October 15, 2013
NVivo 10: Importing, coding documents and file management event Oct. 18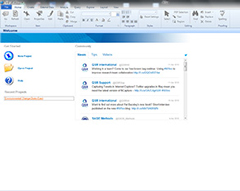 "Importing and Coding Documents and File Management" has been scheduled from 2-4 p.m. Friday, Oct. 18, at 301 Hale Library. This webinar is the second in a series of customized trainings for K-State on NVivo 10, a qualitative and mixed methods data analysis tool. The presenter is Cynthia Jacobs of QSR International.
This session will cover the following topics:
Project setup, project log, save and backup procedures
Importing documents and PDFs
Coding strategies
Node structures
Coding using Text Analysis Queries
Those who want to participate from their computer may register at this link. Once registered, they will receive an email with a link to join the webinar. All online and face-to-face participants are encouraged to ask questions and participate.
Or plan to attend in person and bring questions.
301 Hale will be open from 1:30-4:30 p.m. for this event, to allow people to settle in with their laptops and to meet with fellow qualitative and mixed methods researchers.
Additional online training sessions: These free training sessions are offered online by QSR International. In-person sessions are available from 2-4 p.m. on the Friday afternoons listed below at 301 Hale Library.
Using NVivo for Mixed Methods Research including Demographic Data on Nov. 15
Using NVivo for Survey Data including Social Media Data Extraction and Analysis on Dec. 13
Note: There will be a webinar training on the new Mac version of NVivo — scheduled for release in late 2013 — from 2-3 p.m. Jan. 24, 2014, in 301 Hale. More information on this will follow closer to the date.
A Face-to-Face NVivo Training Oct. 30-31 in Overland Park: QSR International has scheduled a two-day NVivo workshop from 9 a.m. to 4 p.m. on Wednesday and Thursday, Oct. 30-31. For cost and other information, please see the following article.
A K-State Campus Site License for NVivo 10: For K-State graduate students, faculty and staff, NVivo 10 may be downloaded on both a work machine and a portable computer from K-State's protected site after signing in with an eID/password. To activate the software, users will need the unique K-State license key. The software is only for that individual's professional and educational use.
For help with the installation, contact the IT Help Desk, 785-532-7722, helpdesk@k-state.edu.