October 8, 2013
Show your pride with a K-State Fighting for a Cure T-shirt, wear it to the Oct. 12 Football Game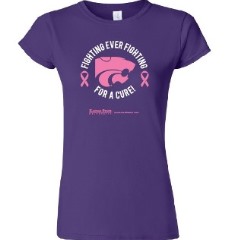 The K-State Fight Song's exclamation that we're "fighting ever fighting for a Wildcat victory" is as true for cancer research as it is for sports. Show your pride for K-State cancer research and support breast cancer awareness by wearing the "Fighting Ever Fighting for a Cure" T-shirt, which is purple with a pink Powercat.
And, if you're going, wear it to the Oct. 12 football game since October is National Breast Cancer Awareness Month.
Shirt sales benefit the Johnson Cancer Research Center, which uses all donated funds to support cancer research and education at K-State.
The shirts are available in both ladies' and unisex styles. They can be purchased from the cancer research center while supplies last for $20 each. They are also being sold at Varney's, with $5 a shirt being donated to the center.
Cats for a Cure student organization will be selling shirts from 10 a.m. to 2 p.m. Monday through Thursday in the K-State Student Union.