October 7, 2013
Arthaud-Day earns honors from top management journal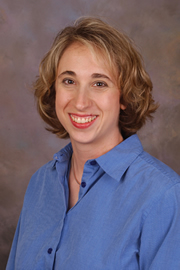 Marne Arthaud-Day, associate professor of management in the College of Business Administration, has been named an outstanding reviewer by the Academy of Management Review Editorial Review Board for the 2012-2013 term.
The editorial board consists of approximately 135 members and only the top ten percent of board members receive this recognition. Arthaud-Day has been on the editorial review board since 2008 and she has received this award twice previously in 2009 and 2012.
"Professor Arthaud-Day has received this award more than once from one the top journals in management, this says a lot about her excellence," said Chwen Sheu, head of the department of management and the Paul B. Edgerley chair in business administration.

Academy of Management Review is one of the top five most influential and frequently cited journals in the fields of management and business. It is a theory development journal that publishes conceptual work on organizations and their role in society.
Arthaud-Day teaches strategic and international management. Her areas of research include corporate governance and corporate social responsibility. She is the von Waaden business administration professor.