October 4, 2013
K-State's Buchholz honored for service to extension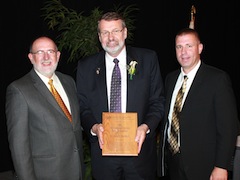 For his dedication to extension, Daryl Buchholz, associate director for extension and applied research at Kansas State University, was honored with the Epsilon Sigma Phi, or ESP, Distinguished Service Ruby Award, the highest award granted in extension nationwide, at the Galaxy IV Conference Sept. 16-20 in Pittsburgh, Pa.
A calling came in graduate school. Getting involved in graduate studies, doing agricultural research, and realizing that the outcomes of that research went far beyond laboratories and paper helped Buchholz realize that a career in extension was meant for him.
"My real interest was not so much in doing research or the outcomes of the research itself, but rather trying to look at it from a practical perspective of how it was going to help agriculture," Buchholz said. "Much of that was driven by the fact that I was surrounded by individuals who had extension responsibilities as faculty members when I was a student."
Buchholz provides the vision and leadership needed for daily operations of the Kansas Cooperative Extension Service. He has been with K-State Research and Extension since 1992, although his work as an extension professional spans more than 33 years.
The conference, hosted every five years by the Joint Council of Extension Professionals, is a national professional improvement conference for extension organizations.
Although he discovered his calling for extension work in graduate school, Buchholz, a native of South Dakota, said he has experienced extension in some way throughout his life. First, it was the Belmont Baby Beef 4-H Club, where Buchholz said he took part in projects including livestock, clothing, horticulture, foods and others that his parents thought would help him become a confident, well-rounded individual and leader. He followed his 4-H days by attending South Dakota State University and becoming the first-generation college graduate in his family.
Buchholz then moved on to pursue graduate degrees at two other land-grant universities—Oklahoma State University for a master's degree and Kansas State University for a Ph.D. He worked in the University of Missouri's agronomy department as an extension soil fertility specialist for 12 years before returning to K-State, where he has served in a number of leadership roles.
As an associate professor of agronomy, Buchholz put his practical outlook to use. He developed and implemented extension programs in soil fertility, fertilizer use efficiency, soil testing, environmental and water quality, no-till cropping management, and site-specific crop management to assist growers, dealers, and the public in understanding principles of nutrient management and using those principles for agricultural improvement.
To this day, he stresses the need to find practical solutions to challenges faced by all Kansans, which includes the five grand challenges for Kansas recently identified by K-State Research and Extension: water, health, feeding the world, community vitality and growing tomorrow's leaders.
"In terms of the resources Kansas is blessed to have, I look at those five challenges as challenges that say, 'Let's do all that we can possibly do to preserve, protect and enhance those resources,'" Buchholz said.
In looking at the future of extension and its ability to remain relevant and strong, especially when addressing the grand challenges, Buchholz said one of the greatest things accomplished during his tenure with K-State Research and Extension was the development of extension districts across the state. Now, 42 counties operating in multicounty districts, sets K-State Research and Extension in a position to be more valuable in allowing agents to specialize and better meet the needs of all Kansans.
Extension, Buchholz said, is also about continuously improving. It's about helping people trust the solutions that assist in their needs and take personal ownership of them. He challenges all extension professionals to make personal connections with others to build that trust.
"We are a human development organization, which means we help people make connections, we help people understand opportunities, and we do that through all of our subject matter areas," Buchholz said. "Don't let technology separate you from who you're working with. You need to stay, in some way, physically connected."
The 100th anniversary of the Smith-Lever Act, a U.S. federal law enacted in 1914 that established the cooperative extension service, is approaching. In his acceptance speech for the Ruby Award, Buchholz said this anniversary can be a reminder of why extension exists. He said he has a positive outlook for the future of extension, as there will always be a need to provide non-biased, research-based information to people focused on improving their lives.
"I do believe that the future of extension is extremely strong," Buchholz said. "It requires us to remain focused on our audiences and to keep our ears open to knowing and understanding the problems they face, understanding those as deeply as we possibly can, and come back with the kinds of education and opportunities people are going to value."
Buchholz, who in 2013 also chaired the national extension director's governing committee, said he believes the kind of people who gravitate toward becoming extension professionals are the ones who have the desire help others.
A lifetime of involvement in extension seems fitting for a man, who said that more than anything, helping and lifting up others is what he enjoys the most about his job.
"It isn't about agriculture, natural resources, family and consumer sciences, 4-H youth development or community development," Buchholz said in his acceptance speech. "Rather, it's about changing people, communities, society in such ways as to lift them up to a better place."
Buchholz said his colleagues and family — wife Joyce, and three daughters, Joan, Anne and Gina — have always supported his career.
Buchholz has received numerous other professional awards, including national awards such as the 2010 Diversity/Multicultural Team Award for the Change Agent State Catalyst for Diversity, 2004 Meritorious Service Award, 2002 Team Award for the Kansas Environmental Leadership Program and the 2002 International Service Award.
Specifically to K-State Research and Extension, Buchholz won the 2004 Builder Award, 2001 Team Award for the Distance Diagnosis Project and the 1997 Team Award for the Atrazine Education Project.
He is a member of the Alpha Rho chapter of ESP, the Kansas extension chapter. ESP is a professional society dedicated to fostering standards of excellence in the extension system and developing the extension profession and professional.