September 27, 2013
The deadline is today to submit an abstract for graduate student poster session
Submitted by Graduate Student Council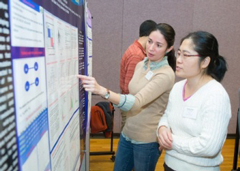 The deadline for Kansas State University graduate students to register and submit an abstract for the Graduate Student Council's Research and the State poster session is today.

Research and the State is an event at which graduate students present their scholarly research to the K-State community and discuss the implications their research has for important state-related issues such as:
sustainable water supply;
economic development and job creation;
workforce development;
plant and animal health;
food safety such as from farm to fork;
health conditions impacting the health of Kansas including cancer, obesity, diabetes and other conditions;
health care costs and alternative health care;
community development and quality of life in rural communities;
alternative and sustainable energy sources;
education such as student achievement and student testing; and
business attraction in the state.
K-State faculty judges select the top presenters to represent K-State at the annual Capitol Graduate Research Summit in the spring.
Please visit the Graduate School's research forum website for registration and abstract submission instructions and materials and additional event information.