Thursday, December 8, 2022
K-State Today Student Edition is a daily email providing K-State students a single source of timely K-State announcements.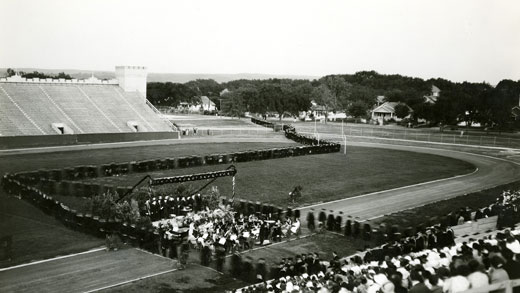 © Kansas State University
From the administration
Read a one-year update on the Economic Prosperity Plan, learn about updates at the Biosecurity Research Institute and find resources for researchers at K-State.
News and research
Marshall Stewart, a nationally recognized leader in higher education and university stakeholder engagement, will become K-State's first senior vice president for executive affairs, university engagement and partnerships, and chief of staff.
Events
Head to the Beach Museum today to celebrate the season. The Winter Party begins at 5:30 p.m. and will feature a pianist, dancing, crafts, refreshments and more. The celebration is free and open to the public. We hope to see you there!
Franco Matias-Ferreyra, assistant professor, clinical track, Kansas State Veterinary Diagnostic Laboratory, will present the final Diagnostic Medicine and Pathobiology Seminar of the semester at 3:30 p.m. today in the Mara Center at Trotter Hall.
Kudos, publications and presentations
Eleven undergraduate and graduate students in the College of Education are being recognized with awards for excellence, social justice advocacy, potential and promise.
The Wildcat 91.9 KSDB-FM student-run radio station covered the 2022 Big 12 Championship Game between K-State and TCU. Four students went to Arlington, Texas, while three staff members based in Manhattan hosted the pregame, halftime and postgame coverage.