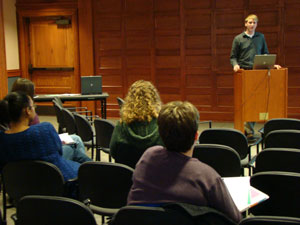 TechBytes is designed to educate the campus community about existing information technology tools and services, and to share future technology innovations. The series features software tutorials, hardware and software tools, and demonstrations by vendors. The sessions are very informal with opportunities for hands on learning, to speak with the experts, and to ask questions. We hope that the series will provide the campus faculty, students, and staff with insight on ways that technology might be used to enhance teaching, learning, research, and outreach of the environment.
The series is sponsored by the Catalyst (College of Education), the Information Technology Assistance Center (iTAC), Information Systems in the Division of Continuing Education, and Information and Educational Technology (IET) in the department of Communications.
Organizers of the series are:
Cathy Rodriguez, Technology Trainer for iTAC
Gerry Snyder, Multimedia Specialist for IET
Send us comments or suggestions for future programs.