Stat Club

The Stat Club is a student organization for Statistics majors and minors, including both graduate and undergraduate students. In addition to providing academic support to its members, the Stat Club coordinates several departmental social activities, including
a picnic at the beginning of the Fall semester
a picnic at the end of the Spring semester
pumpkin carving contest in the Fall
Chinese New Year celebration
potluck dinners
ice skating, badminton, and other recreational activities
student internship forums
Admission to the Stat Club is free, and all undergraduate and graduate Statistics majors and minors are welcome.
Current Officers
President: Steephanson Anthonymuthu

Vice President: Nelson Walker

Secretary: Zhihan Zhang

Treasurer: Liying Jin
For additional information about the Stat Club and related activities, please contact:
Steephanson Anthonymuthu
Email: steephan@ksu.edu
Office: 304 Dickens Hall
Previous Officers
(pictured above, from the left)
Treasurer Xianzhe Xue (Christine)
Vice President Narmadha Meenabhashini Mohankumar (Meenu)
Advisor Wei-Wen Hsu
President Jianfeng Chen (Jeff)
Secretary Jiali Zhu
Photo Galleries - Events Sponsored by the Stat Club
Other Photos
---
We had another pumpkin carving contest!
Our pumpkin masterpieces are shown below. We carved them Monday evening (October 28, 2013), then placed them in the main office for people to vote on them. Votes were counted by the loose change accumulated by each pumpkin, except that any dollar bills penalized that pumpkin. We garnered $140 for future Stat Club projects, and we had great fun in the process!













---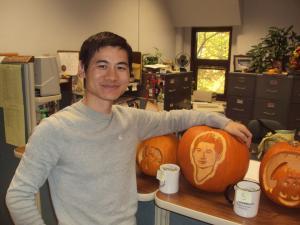 Pumpkin Carving Contest
In Fall 2011, we had a pumpkin carving contest to raise money for the club. The carved pumpkins were on display in the main office, and students, faculty and staff voted for their favorite with a cash donation. Shown is Dr. Yao, with the winning pumpkin carved in his likeness.
---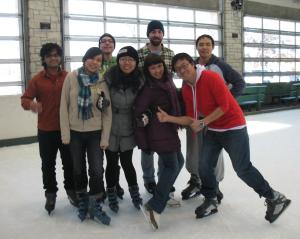 Ice Skating Party
To combat the unusually warm winter, a few brave souls ventured out to the local ice skating rink.