Innovation and Economic Prosperity designation

As the first public land-grant institution, K-State is a member of the Association of Public and Land-Grant Universities, or APLU. The Commission on Innovation, Competiveness, and Economic Prosperity, known as CICEP, created the Innovation and Economic Prosperity Universities Designation and Awards program to recognize universities that are leaders in spurring and promoting regional economic development. CICEP also offers an Economic Engagement Framework to help universities plan, implement, assess, and advance economic engagement efforts.
Sixty institutions have received the IEP designation. In August 2016, K-State President Richard Myers and Vice President for Research Peter Dorhout submitted K-State's letter of intent to participate in the IEP designation process. K-State submitted a proposal on May 3, 2017, and received notification that the proposal was successful in July 2017. Read more about the process K-State followed (PDF) or view members of the steering committee.
Benefits
The designation self-study process benefits K-State because it:
Challenges K-State to define economic engagement.
Offers an opportunity for internal and external stakeholders to identify what K-State does well and how and where K-State can improve.
Provides a means for K-State to communicate all of the ways it is economically engaged locally, regionally, at the state level, and nationally.
Affords an opportunity to catalog all of the programs, activities, and events related to economic engagement/development.
The Office of the Vice President for Research will continue to engage internal and external stakeholders as the growth plan is implemented.
Learn more
Questions or comments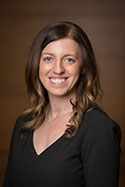 Contact:
Rebecca Robinson
Chief corporate engagement & economic development officer
Innovation Partners
spexarth@k-state.edu