Get Involved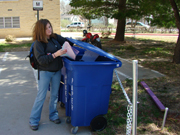 There are several ways you can get involved in recycling efforts at K-State.
First and foremost, recycle everything you can, whenever you can! Encourage others to do so as well. Only if as many people as possible recycle can we make a true difference.
If you want to take an active role in on-going recycling and waste reduction events and programs, contact Students for Environmental Action (SEA) or become an Eco Rep.
If you want to go further than that, establish your own group or program. The Recycling Committee will assist you in any way they can and can always be contacted with new recycling ideas.