Michael Young, Ph. D.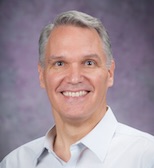 Contact Information
Office: BH 473
E-mail: michaelyoung@ksu.edu
ORCID: 0000-0003-1493-9548
Research Interests
Dr. Michael Young began his career as a computer scientist out of the University of Illinois in 1984 with a specialization in Artificial Intelligence. He received his MS in Computer Science in 1990 and a Ph.D. in Experimental Psychology from the University of Minnesota/Twin Cities in 1995. After spending 12 years at Southern Illinois University at Carbondale, Dr. Young joined Kansas State University in 2012 as the Head of the Department of Psychological Sciences.
Dr. Young's primary research program involves the study of decision making in dynamic environments. He is currently studying (a) the variables that influence the identification of causes in continuously unfolding environments and (b) the situational and individual variables related to impulsive and risky choice in video game environments. He continues to integrate his background in computer science with his interest in psychology through the development of computational models of environment-behavior relations. Dr. Young's love of mathematics also is revealed by his occasional side project evaluating various statistical and design methods using Monte Carlo simulation.
For more information, go to Dr. Young's laboratory web page.

Student Involvement
Undergraduate students begin in the lab by getting involved in the conduct of ongoing research on judgment and decision making. The lab normally requires a two-semester commitment so that the student can progress to learning additional skills after mastering the basics. Undergraduate and graduate students attend weekly laboratory meetings where everyone is required to present at least once during the term in order to develop their presentation skills. Graduate students usually begin by getting involved in an ongoing project in order to learn the ropes. As their research interests evolve, they begin to develop independent projects as well as continuing to collaborate with Dr. Young and his students in their projects. His goal in graduate training is to prepare the student to function as an independent scientist.
By the way, Dr. Young loves to talk about research design and statistics, so you will come out with a strong skill set in these areas. Because of their strong statistical training, many of his previous graduate students have ended up teaching graduate statistics or doing significant statistical consulting as professors or postdoctoral scientists.

Current Graduate Students
Recent Publications
(*indicates student co-author, ** for undergraduate)
Young, M.E., & *Howatt, B.H. (in press). Learning when to wait and when to act. Learning and Behavior. https://doi.org/10.3758/s13420-021-00482-5
*Rader, A.E., Young, M.E., Leaf, J.B. (2021). A quantitative analysis of accuracy, reliability and bias in judgements of functional analyses. Journal of the Experimental Analysis of Behavior, 116, 166-181.
Young, M.E. & Hoane, M.H. (2021). Mixed effects modeling of Morris water maze data revisited: Bayesian censored regression. Learning and Behavior, 49, 307–320.
Silveira, M., Camargo, J.C., Aggio, N.M., Ribeiro, G.W., Cortez, M.D., Young, M.E., & de Rose, J.C. (2021). The influence of training procedure and stimulus valence on the long-term maintenance of equivalence relations. Behavioural Processes, 185.
*Vangsness, L., & Young, M.E. (2021).

More isn't always better: When metacognitive prompts are misleading

. Metacognition and Learning, 16, 135-156.

Wasserman, E. A.,

Young, M. E.

, & Castro, L. (2021). Mechanisms of same-different conceptualization: Entropy happens! Current Opinion in Behavioral Sciences, 37, 19-28.
*Vangsness, L., & Young, M.E. (2020). Turtle, task ninja, or time-waster? Who cares - traditional task completion strategies are over-rated. Psychological Science, 31, 306–315.
*Steele, C.C., **Gwinner, M., Smith, T., Young, M.E., & Kirkpatrick, K. (2019). Experience matters: The effects of hypothetical versus experiential delays and magnitudes on impulsive choice in delay discounting tasks. Brain Sciences, 9(12), 379, https://doi.org/10.3390/brainsci9120379C.C.
Young, M.E., & *McCoy, A.M. (2019). Variations on the balloon analogue risk task: A censored regression analysis. Behavior Research Methods, 51, 2509-2521.
*Vangsness, L., & Young, M.E. (2019). Central and peripheral cues to difficulty in a dynamic task. Human Factors, 61, 749–762.
Jackson, A.T., Young, M.E., Howes, S.S., Knight, P., & *Reichin, S. (2019). Examining factors influencing use of a decision aid in personnel selection. Personnel Assessment and Decisions, 5, 1-36.
Loschky, L.C., Szaffarczyk, S., Beugnet, C., Young, M.E., & Boucart, M. (2019). The contributions of central and peripheral vision to scene gist recognition with a 180° visual field. Journal of Vision, 19, doi:10.1167/19.5.15.
Young, M.E. (2019). Modern statistical practices in the experimental analysis of behavior: An introduction to the special issue. Journal of the Experimental Analysis of Behavior, 111, 149-154.
Young, M.E. (2019). Bayesian data analysis as a tool for behavior analysts. Journal of the Experimental Analysis of Behavior, 111, 225-238.
Peissig, J.J., Young, M.E., Wasserman, E.A., & Biederman, I. (2019). Pigeons spontaneously form three-dimensional shape categories. Behavioural Processes, 158, 70-76.
*Cooper, T., **Liew, A., ***Andrle, G., **Cafritz, T., **Dallas, H., Niesen, T., **Slater, E., **Stockert, J., **Vold, T., Young, M., & Mendelson, J. (2019). Latency in problem solving as evidence for learning in varanid and helodermatid lizards, with comments on foraging techniques. Copeia, 107, 78-84.
Young, M.E. & *Crumer, A. (2019). Reaction times. In J. Vonk & T.K. Shackelford (Eds.), Encyclopedia of Animal Cognition and Behavior. Springer. doi.org/10.1007/978-3-319-47829-6_731-1