Tyler Burns
Year in school: Junior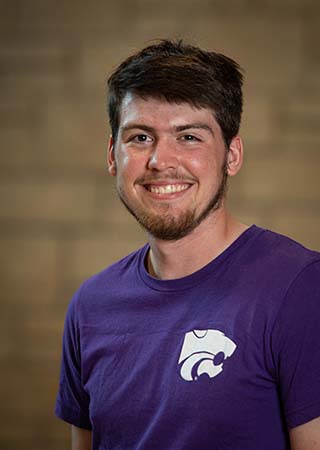 Major: Accounting
Hometown: Topeka, Kansas
What is your earliest K-State memory?
My earliest K-State memory is coming to a football game in 2013 to see my older cousins perform in the K-State Marching Band.
Why did you choose K-State?
I chose K-State because of the high-quality education and the focus on success post-graduation. I could tell from the moment I stepped on campus that the faculty and staff cared about my achievement in the classroom and also my career success.
How are you involved at K-State?
I am a member of the K-State Marching Band and the Cat Band that performs at basketball games. I am also a business ambassador and a member of the Dean's Student Advisory Council in the College of Business Administration.
What has been your favorite K-State experience?
My favorite K-State experience was going to Houston with the band for our Texas Bowl victory!
How does K-State care for Kansans in your hometown community?
Since Topeka is so close to Manhattan, there is a large alumni base in the city. K-State creates a sense of community in the city that would be missing without it. The Topeka Catbackers group hosts events throughout the year and allows K-Staters of all ages to connect with each other.
Why do you want to bring K-State to your community?
K-State can sometimes get overlooked by people who see it as an agriculture school. I want to show people that K-State is more than just an agriculture school and offers a top-tier education and experience in every field of study.