Stacia Mendoza
Year in school: Senior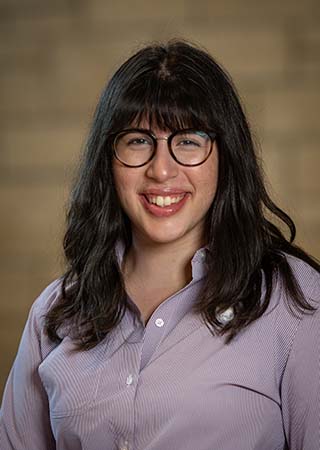 Major: Finance
Hometown: Lenexa, Kansas
What is your earliest K-State memory?
My earliest K-State memory would be hearing us beat Nebraska and win the Big 12 in 2000 from my mother's womb. My other early memory is attending the spring game and going down on the field afterward. I remember having a little Powercat notebook that I would take around to get all of the players' signatures. I was always so excited to get their signatures and then get to watch them during the season!
Why did you choose K-State?
I chose K-State because I felt extremely cared for as a prospective student. My admissions rep and the recruiter for the College of Business Administration made an intentional effort to build a relationship with not only me, but my whole family as well. They continue to stay in contact with us to this day! I knew that at K-State, I would have the feel of a small school but the benefits of a large public research university. And ultimately, it had the best campus culture of all the schools I visited.
How are you involved at K-State?
I am a Student Ambassador, president of Blue Key Senior Honorary, director of academic affairs for Student Governing Association and a member of Finance Scholars, Student Foundation, Student Alumni Board and Alpha Delta Pi sorority. I also am a yoga instructor at the Recreation Center.
What has been your favorite K-State experience?
My favorite K-State experience has been serving as one of the 2022 Student Ambassadors. In this role, I've had the opportunity to travel around Kansas, giving updates on the university to prospective students and alumni. It's also given me the chance to attend the Wabash galas that help raise funds for scholarships. It is my favorite experience because it has allowed me to see firsthand how the K-State family extends beyond Manhattan. I'm able to witness how K-State carries out its land-grant mission and caters to Kansans all over the state.
How does K-State care for Kansans in your hometown community?
My hometown is the largest city for K-State alumni. K-State does a great job of providing ways for alumni to stick together and stay connected. They also have a campus in Olathe. This allows K-State to come right to Kansas City and offer a K-State education in our front yard.
Why do you want to bring K-State to your community?
I want to bring K-State to my community because it has given me a community away from home. The people that I've met and the lessons that I've learned here I want to bring back to my hometown. K-State has provided me with many opportunities to grow both professionally and personally. I want everyone in my community to be aware of this place just a couple of hours to the west.