Donate

Benefits for you:
The team attends several events including university events such as Organization Fairs on campus, Homecoming Parade, and local motorsport events (SCCA Competitions in Kansas City, Topeka, Salina, and Wichita). The team also receives exposure through the two FSAE competitions which will be in Brooklyn, MI with about 5,000 attendees and Fontana, CA with about 4,000 attendees this upcoming year. Within K-State, the Formula car is a focal point of the Engineering Building, with multiple cars on display inside of a glass showcase. Our team maintains a strong social media presence, through this website, Facebook, Instagram, and Twitter where your company will be thanked and displayed frequently in pictures, Sponsor Sundays, etc.
What Your Money Would Go Toward:
Powercat Motorsports highly values our partnerships, because they directly affect 30+ team members, and indirectly affect Kansas State University as a whole and the community. A healthy Formula SAE team allows eager and driven students to improve their understanding of classwork by directly applying it to the design, manufacturing, and testing of our race car. Without partnerships our team wouldn't have the funds to travel to the FSAE competitions, and it is at these competitions where students grow and become inspired the most.
To learn about the different sponsorship levels, click the 'Sponsorship Levels' link on the left.
Online Donation
Visit our KSU Foundation online giving page at:
https://www.givecampus.com/campaigns/17124/donations/new?fbclid=IwAR0DV6FIMHAc1wedT6t3pPSnJWox00ZUL-nXFhab5f3-oY3G4COqklg2Odw
-OR-
Write a Check
Example Check: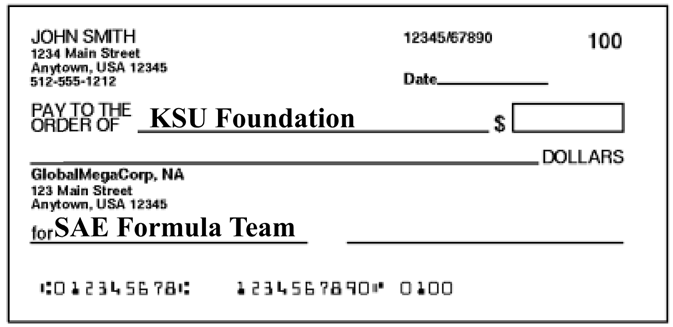 Please send to-
K-State Foundation
1800 Kimball Avenue
Suite 200
Manhattan, KS 66502