Non-Trad & Military Affiliated Resource Center Staff
Ennis Rios: Military Affiliated Resource Center Coordinator
Strengths: Adaptability • Harmony • Connectedness • Relator • Intellection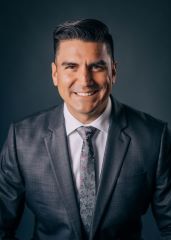 Ennis is the Coordinator for the Military Affiliated Resource Center (MARC) located in room 217 of the K-State Student Union. The MARC provides resources and services to enhance the academic success and comprehensive development of Veterans and Military Affiliated students. Active Duty, Reserve, National Guard, ROTC-affiliated faculty and cadets, and military families and survivors are encouraged to utilize this robust resource center. Additionally, the Center serves as a gathering place to build community among students with similar life experiences.
Prior to his appointment as MARC Coordinator, Ennis spent 15 years enlisted in the U.S. Navy as an Information Systems Technician. His duty stations include the USS Chancellorsville, USS Preble, Sea Control Squadron 38, the Center for Information Dominance, Mobile Communications Team One, and Naval Special Warfare Unit Two. Ennis left the Navy in 2015 as a Chief Petty Officer and pursued his college education. Using the Post 9/11 GI Bill (CH-33) and the Veteran Readiness and Employment program (CH-31), he graduated from Texas A&M University with a Bachelor of Science in Geographic Information Science Technology (2019) and a Master of Water Management & Hydrological Science (2021).
Ennis' professional interests include helping the veteran and military affiliated community achieve success on and off campus. Through a holistic approach that focuses on academic, financial, physical and mental health wellbeing, he hopes to empower students along their collegiate journey by connecting them with existing resources or by developing new structures of support where needs exist.
Contact Ennis at: ennisrios@k-state.edu


Justin Frederick - Assistant Dean and Director
Strengths: Restorative • Context • Adaptability • Arranger • Responsibility
Justin Frederick is an Assistant Dean within the Office of Student Life. Justin oversees the Non-Traditional and Military Affiliated Resource Center, in addition to supervising the CARE (Center for Advocacy, Response and Education) Office, and working with students in the Colleges of Agriculture and Arts and Sciences.
Prior to his work in the Office of Student Life, Justin spent his professional career in the field of Student Housing, serving in a variety of roles including Complex Director, Assistant Director and Associate Director. Justin earned his Master's of Science in College Student Personnel from the University of Central Missouri and his Bachelor's of Science in Social Work from Pittsburg State University (KS). Justin is excited to be back home in his home state and working with students at K-State.
His professional interests include a passion for helping students overcome hurdles and assisting them in learning how to advocate for themselves. In his work he strives to keep students at the center of all the work we do. He enjoys strengthening partnerships that assure university services assist students in being successful.
Contact Dean Justin Frederick at: frederick@k-state.edu
---
Non-Traditional & Military Affiliated Resource Center
Location:
Second floor K-State Student Union, Room 217
Hours:
(Fall & Spring)
Monday-Friday 8:00am-5:00pm