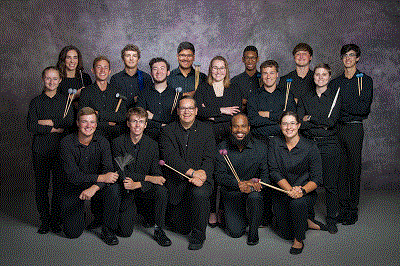 2019-20 Percussion Studio
Norman Weinberg Master Class and Concert
In September, Norman Weinberg (Professor Emeritus, University of Arizona) visited the K-State campus to present a master class on his new book, TOUCH: Developing Subtlety and Nuance for Percussionists. While on campus, Dr. Weinberg also taught numerous lessons and presented a recital, in which each piece featured some aspect of technology in music.
Radio City Music Hall Percussionist Mario DeCiutiis at K-State
This fall, Mario DeCiutiis visited K-State to perform and teach on his
Alternate Mode
line of MIDI percussion controllers. DeCiutiis has been the percussionist for the Radio City Music Hall Holiday Spectacular and other shows since 1979. Shortly thereafter, he invented the malletKAT, an electronic keyboard instrument capable of meeting the demands of the modern percussionist. Today, KAT instruments are used extensively at Radio City Music Hall as well as in many Broadway pit orchestras because of their versatility and quality of sound.
During DeCiutiis' three-day residence at K-State, he presented a clinic to students, performed a concert exhibiting the versatility and expressive range of the KAT instruments, addressed seminar classes, and offered private lessons. Also, he involved students in an extensive sample recording project.
Percussion Studio Handbook
Download the latest edition of the K-State Percussion Studio Handbook. It is your go-to source for our curriculum, required resources (books, sticks, mallets, etc.), and clinics/background information.
K-State Percussion on Facebook!
Get the latest information from the K-State Student Chapter of the Percussive Arts Society on their Facebook page! Studio-related information - including events - will be posted here. Many performances of the percussion studio are streamed via Facebook Live.