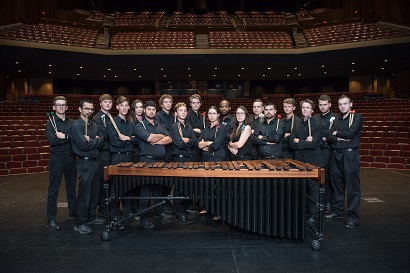 2018-19 Percussion Studio
Percussion Ensemble II featured at the 2019 Concert Band Clinic
The KSU Percussion Ensemble II will perform on Friday, January 25 for the opening night concert of the Concert Band Clinic. Featured will be marimba soloist Braedon Bomgardner (sophomore/B.M.E.) on Michael Burritt's White Pines.
K-State Percussion Alumnus Wins National Award
David Whitman (M.M., Percussion Performance) was recently honored, as his recent release "Oh, Clara!" won Best Instrumental Jazz Album at the 16th Annual Independent Music Awards at Lincoln Center. Additionally, Whitman and his colleague Chris Montgomery received a nomination for Best Producer in the Jazz, Fusion, Jam, etc. category. The album is available through CD Baby.
2018-2019 Graduate Students
Brandon Adams is a master's degree student at KSU, also serving as Graduate Teaching Assistant for the percussion studio and band program. Adams is originally from Fort Worth, Texas. He received is BM in Music Education from Oklahoma State University under Professor Wayne Bovenschen. At OSU Brandon played with the Wind Ensemble, Orchestra, Percussion Ensemble, Jazz ensemble, Marching Band, and University Singers. Brandon is a part of the Percussive Arts Society and in 2014 traveled to Indianapolis to perform a world premier piece at the Percussive Arts Society International Convention with the OSU Percussion ensemble. In 2014 Brandon played marimba for Resistance Indoor Percussion. Brandon has served as the Wind Ensemble Principal Percussionist from 2015-2017 and traveled with the ensemble to Kansas City, Missouri to play for the College Band Directors National Association. In 2017 Brandon completed his student teaching at Deer Creek Independent School District, where he taught beginner instrument classes and ran rehearsals for multiple ensembles. His percussion ensemble received a superior rating at solo and ensemble. Brandon has also been a front ensemble technician for Fossil Ridge High School, Guthrie High School, and the OSU Winter Drum Line. Brandon was also an active member in Phi Mu Alpha.
Master of Music degree candidate Brandon Collins (b.1995) grew up in Middlebourne, WV. He is a graduate (May 2017) with a B.M. in Music Technology and a B.M. in Music Performance from West Liberty University. He was an active performer in the university's Percussion Ensemble, Jazz Ensemble, Marching Band, and Wind Ensemble, as well as performing with local Ohio Valley acts Homemade Jam and Team Phunk Phace. Also, Brandon instructed the St. Clairsville Red Devil Marching Band's battery. In addition to his teaching and performing experience, Collins recorded concerts and recitals as part of West Liberty University's Music Technology Practicum Team.
Pennsylvania native Alex Shallenberger is a graduate of West Chester University, where he earned his bachelor's degree in instrumental music education. His musical interests include music technology and composition. He is on the staff of Blue Lakes Fine Arts Camp in Twin Lake, Michigan, and has served as drum line tech for McDowell High School in Erie, PA.
Richard Welch's musical journey started at the age of seven in a small village in Barbados. His love of music began while attending weekly church services accompanied by his mother. He recalls anxiously being seated behind the drum set at the end of each Sunday and weekly services. As his skill set increased, onlookers took notice as his passion for percussion became a reality. He was fortunate enough to gain formal training from both secondary and tertiary level educational institutions. Richard has expressed gratitude to God Almighty for the many travel opportunities afforded to him throughout the Caribbean and internationally, including such places as Delaware, Maryland, St.Kitts, Grenada, and St.Lucia, playing at major jazz and gospel festivals. He recalls an experience where he played a Jazz concert with the last surviving member of the Ray Charles band, Mr. Marcus Belgrave, before his passing in July, 2015. Marcus' schooling led to Richard's personal appreciation for the North American art form - jazz - which he passionately loves. Since then, many doors have opened and continue to widen. Along with his many successful tours he was fortunate to play with Archie Alleyne's Jazz Quartet based in Canada. Also, he also is a music teacher and missionary of a charitable group called Island Impact Outreach Ministries where he has served faithfully under the guidance of Evangelist Michael Haynes for ten years.
Percussion Studio Handbook
Download the latest edition of the K-State Percussion Studio Handbook. It is your go-to source for our curriculum, required resources (books, sticks, mallets, etc.), and clinics/background information.
K-State Percussion on Facebook!
Get the latest information from the K-State Student Chapter of the Percussive Arts Society on their Facebook page! Studio-related information - including events - will be posted here. Many performances of the percussion studio are streamed via Facebook Live.