About the Executive Director
Arthur S. DeGroat
Lieutenant Colonel (Retired), U.S. Army
Colonel H. Duane Saunders Executive Director of Military & Veteran Affairs
Kansas State University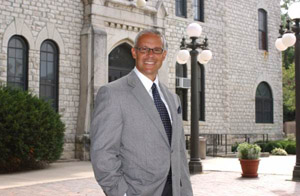 Art DeGroat is the founder and executive director of the Office of Military and Veterans Affairs and the Military and Veterans Affairs Innovation Center at Kansas State University. In this capacity, he provides strategic direction to the university president and cabinet for institutional policy development; develops major military-related education, research, and outreach service programs; and creates and stewards external relations and partnerships with national, regional, and local military organizations. Prior to this assignment, he served as Kansas State University's Head of the Military Science Department where he led the Army ROTC program to the top performance ranking in the nation and being ranked as the U.S. Army's Best Professor of Military Science in 2006.
Art had served a 22-year career as an Armor and Cavalry Officer in the U.S. and abroad in support of the Cold War, Major Regional Contingency Operations in Southwest Asia, and the Global War on Terrorism resulting in an award of the Army's Legion of Merit. As a combat commander, he led a front-line M1 Abrams tank company in the liberation of Kuwait during Operation Desert Storm resulting in awards of the Bronze Star Medal and the Valorous Unit Award. After the war, he had served in a myriad of diverse assignments, including combat trainer, doctrine writer, concept developer, and operations and executive officer for large, mechanized units. He is credited with writing an innovative textbook on Force XXI military operations enabled by digital command and control systems, as well as numerous thought provoking articles in professional military journals. Art was selected to serve on several strategic "think tank" groups for two Army Chiefs' of Staff; was an operational "wargamer" for the Secretary of Defense's Revolution in Military Affairs program; as well as serving in a unique position as Special Assistant for Warfighting to the Army's Chief of Armor and Cavalry at the Armor Center and School, Fort Knox, Kentucky.
His formal education includes a Doctorate of Education and a Master's of Science degree in Adult and Continuing Education from Kansas State University; a Master's of Military Arts and Science degree from the U.S. Army Command and General Staff College; and a Bachelor's of Science degree in Political Science from Seton Hall University. His doctoral research emphasis is in post-military service transition and reintegration of 9/11-era veterans. He recently published a definitive white paper, entitled "Looking Critically at Reintegration of Post-9/11 Era Veterans."
Art serves actively within many national military-connected service organizations to include the Kansas State University Institute for Health and Security of Military Families; the Sports Academy Foundation in Los Angeles; The All Glory Project, a national non-profit organization promoting equine assisted therapy for wounded veterans operated by actor William and Elizabeth Shatner; Carole Hyatt's Mission: Getting to Next in New York City; and Advisory Board member to EnGarde Arts Basetrack Live project. He is a life member of the National Society of Collegiate Scholars and Honor Society of Phi Kappa Phi; recipient of the Bronze Medallion of the Fraternal Order of Saint George; the 2010 Association of the United States Army LTG Robert Forman Award; and the Military Order of World Wars National Patrick Henry Silver Award. He consults professionally as founder and principal of Invictus Consulting LLC to assist corporate, non-profit, and community-based organizations enhance strategic operations. He resides in Manhattan, Kansas.