Hurtig, Tinker new Kansas State University Student Governing Association leaders

Friday, March 6, 2015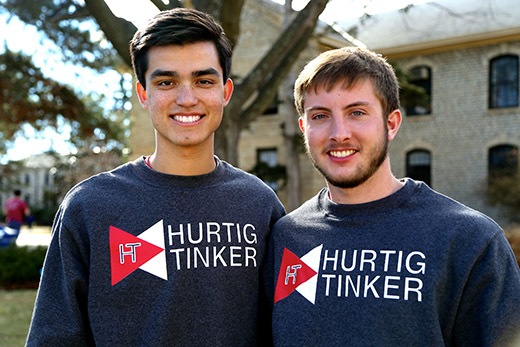 Joseph Tinker, left, junior in psychology and student body vice president-elect, and Andrew Hurtig, junior in accounting and finance and student body president-elect. | Download this photo.

MANHATTAN — Kansas State University students have elected Andrew Hurtig, junior in accounting and finance, Wichita, as student body president.

Hurtig's running mate, Joseph Tinker, junior in psychology with a minor in business, Overland Park, will serve as student body vice president.

Hurtig and Tinker will take office April 9 and plan to continue the work of their predecessors on Lifelines 911, a Kansas Legislature bill to grant temporary amnesty for minors from minor in possession charges when seeking medical attention for themselves or others.

"Service to K-State is natural for us as we have been involved in SGA and other campus organizations during our time here," Hurtig said. "To us, the opportunity to serve and represent the K-State student body is humbling and not one to be taken lightly."

"At the end of the day, we are hard-working, driven and motivated individuals just like everyone else with whom we share this campus," Tinker said.

Hurtig is thechief of staff for the university's Student Governing Association. He serves on the Student Alumni Board, K-State Athletics Student Advisory Team and the K-State Student Union Governing Board. He served the Student Governing Association as senate intern in 2012-2013 and student senator in 2013-2014. Hurtig received semester honors in the spring 2013 and 2014 semesters and is the recipient of a Kansas State University Foundation Scholarship. He is a member of St. Isidore's Catholic Student Center. A 2012 graduate of Kapaun Mount Carmel High School, he is the son of Tony and Kim Hurtig, Wichita.
Tinker is a student senator in the Student Governing Association and served as intern for the association from 2013-2014. He is the president of the K-State Student Union Governing Board and vice president of the Union's Corporation Board. He is a member the K-State Student Foundation and Blue Key Honor Society. His honors include a Putnam Scholarship, Blue Key Neal Atkinson Junior Leadership Scholarship and Student Governing Association Intern of the Year award. He is a member of the St. Isidore's Catholic Student Center social ministries. He has an active undergraduate research project investigating the interaction between financial incentives and exercise habits. A 2012 graduate of St. James Academy, Lenexa, he is the son of Rob Tinker and Marilyn Tinker, both of Overland Park.