Kansas State University Global Campus hosts inaugural Continuing Education in Kansas Conference
Wednesday, July 29, 2015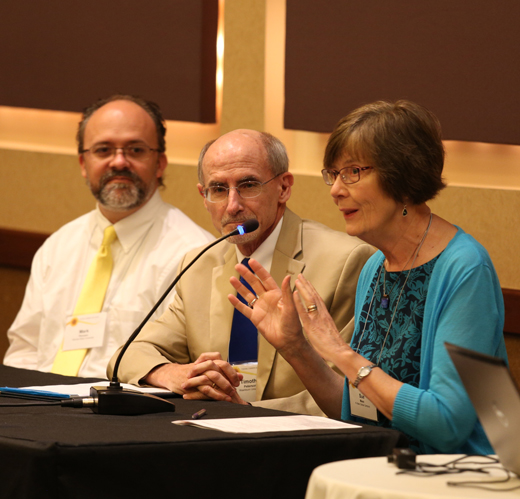 From left: Mark Porcaro, Wichita State University; Timothy Peterson, Washburn University; and Sue Maes, Kansas State University, discuss the future of continuing education.| Download this photo.

MANHATTAN — Exchanging ideas and increasing interinstitutional collaborations to better serve the educational needs of adult learners was the focus of the first Continuing Education in Kansas Conference, which was at Kansas State University and hosted by K-State Global Campus.
The conference, July 17 at the K-State Alumni Center, was a platform to share ideas on recruiting and marketing to new students — working adults with family responsibilities who are interested in furthering their education or engaging in lifelong learning — in Kansas, across the nation and around world.

Continuing education, especially online courses and degrees, is becoming increasingly important as college student populations grow in the percentage of individuals outside the traditional 18- to 22-year-old age range, many of whom are often already members of the workforce.
Gary Alexander, keynote speaker and vice president for academic affairs for the Kansas Board of Regents, says that an exciting future lies ahead for educators in the Sunflower State. He said Kansas' colleges and universities need to collaborate so they can seize opportunities to get ahead of the game.
"We're building the plane while we're flying through the air, and that's not going to change," said Alexander, who pointed out that responding to the need of industry is critical for the success of educational institutions in Kansas. "We have to be much clearer about how we get the kind of education that individuals need for the jobs that they're after and make that education accessible."
Colleges and universities are working to meet the public's high demand while simultaneously guaranteeing exceptional standards of quality.
Sue Maes, dean of K-State Global Campus and conference chair, said, "Six hundred thousand Kansans could benefit from online courses because they would otherwise struggle to balance their work and family schedules with getting a college degree in a traditional classroom. It is important to strive to ensure the quality of online courses is the same as in the regular classroom setting."
For information about the public institutions in Kansas, visit the Kansas Board of Regents at kansasregents.org/universities_colleges/public_institutions.
View available online degree programs through K-State Global Campus at global.k-state.edu.