Sue Maes
Dean of Kansas State University Global Campus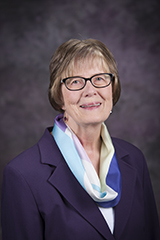 Sue Maes has served the education community for decades. She is an expert on building new academic programs and fostering institutional collaboration, both nationally and globally.
Maes has been nationally recognized for her abilities to push the Kansas State University brand worldwide through her work with Kansas State University Global Campus. K-State Global Campus extends the reach of the university by supporting online bachelor's degree completion programs, online master's degrees and doctoral programs, certificate and endorsement programs, and minor programs. K-State Global Campus also serves learners through summer school, evening college, intersession, UFM Community Learning Center, conferences and professional programs, and coordinates programs at Fort Riley and Fort Leavenworth.
She was the first recipient of the International Leadership Award from the University Professional and Continuing Education Association, or UPCEA. She received the award in April 2013 for her efforts increasing globalization for the university and advocating for international collaboration.
Maes' globalization projects include advocating for and helping initiate the Go Teacher program, designed to provide training for English language teachers from Ecuador and establishing a partnership with Gujarat Technological University to train electrical and mechanical engineers.
In April 2011, Maes received UPCEA's most prestigious national recognition, the Julius M. Nolte Award for Extraordinary Leadership. The award is given only in years when a nominee demonstrates exceptional, longstanding contributions to continuing education at the regional, national and international levels.
In 2010, Maes received the Richard Jonsen Award for Outstanding Contributions to the E-learning Community, the highest national award given by the WICHE Cooperative for Educational Technologies.
Maes was a senior development officer at K-State's Educational Communications Center for 10 years, providing leadership to the campus, Regents system and state of Kansas in the development of telecommunications and multimedia infrastructure.
Another of Maes' collaborative projects includes developing the Great Plains Interactive Distance Education Alliance. The program, started in 1994, has 19 university members and offers 18 collaborative master's degrees to more than 700 students each year.
Maes previously served as president of UPCEA and currently serves on the Midwestern State Authorization Reciprocity Agreement steering committee, a project working to make distance education courses more accessible to students across state lines. In 2000, she was elected to the International Adult and Continuing Education Hall of Fame.
Locally Maes is deeply connected to her community, helping found the Greater Manhattan Community Foundation and later serving as its president.
Maes received a bachelor's in social science, a master's in family and child development and a doctorate in counseling and educational psychology, all from K-State. She also has participated in Harvard University's Institute for Management of Lifelong Education.
Maes can be reached at 785-532-5644 or scmaes@k-state.edu.