Sue C. Maes
Dean of Kansas State University Global Campus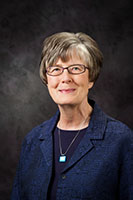 Sue Maes has served the education community for decades. She is an expert on building new academic programs and fostering institutional collaboration.
Maes has been nationally recognized for her work in continuing education and e-learning.
She was the first recipient of the International Leadership Award from the University Professional and Continuing Education Association. She received the award in April 2013 for her efforts increasing globalization for the university and advocating for international collaboration.
In April 2011, she received the University Professional and Continuing Education Association's most prestigious national recognition, the Julius M. Nolte Award for Extraordinary Leadership. The award is given only in years when a nominee demonstrates exceptional, longstanding contributions to continuing education at the regional, national and international levels.
Maes also received the Richard Jonsen Award for Outstanding Contributions to the E-learning Community, the highest national award given by the WICHE Cooperative for Educational Technologies, in fall 2010. The award is given annually to a WCET member whose career has been committed to improving postsecondary educational programs and services through innovative uses of technology. The award also recognized her exceptional service to WCET, a membership organization that works to accelerate the adoption of effective practices and policies, advancing excellence in technology-enhanced teaching and learning in higher education.
She was a senior development officer at K-State's Educational Communications Center for 10 years, providing leadership to the campus, Regents system and state of Kansas in the development of telecommunications and multimedia infrastructure. As co-director of the Institute for Academic Alliances, Maes has worked across faculty teams to build online master's degree programs in family financial planning, gerontology, youth development, merchandising and community development.
Maes was the assistant dean and director of academic outreach in 1994-95 for the Division of Continuing Education. She also was in charge of planning and resource development for several years.
From 1998 to 1999, Maes was president of the University Continuing Education Association, and in 2000 she was elected to the International Adult and Continuing Education Hall of Fame. For the past several years she has helped develop the Great Plains Interactive Distance Education Alliance. Maes also is skilled in project management and external funding acquisition. She has taught numerous classes and seminars on teaching strategies and grant writing, and she has been awarded numerous grants for research.
In addition to her administrative abilities, Maes has demonstrated a decades-long commitment to advancing rural education and community development. She was a co-founder of the Rural Clearinghouse for Lifelong Education and Development in 1984, a national effort to improve rural access to education. She also helped design the Kansas Center for Rural Initiatives, a rural assistance center at K-State that was created to serve rural communities in the areas of economic development, leadership, micro-enterprise and strategic planning.
She also was recently selected to serve on the Midwestern State Authorization Reciprocity Agreement, or M-SARA, steering committee. The M-SARA project is the regional component of a larger national initiative that works to make distance education courses more accessible to students across state lines. It also works to make it easier for states to regulate and institutions to participate in interstate distance education.
Maes has served as the executive director for the University for Man, now UFM Community Learning Center, a nonprofit campus and community education program.
Maes received a bachelor's in social science, a master's in family and child development, and a doctorate in counseling and educational psychology, all from K-State. She also has participated in the Harvard University's Institute for Management of Lifelong Education.
Maes can be reached at 785-532-5644 or scmaes@k-state.edu.