Media advisory: Media invited to attend Central Kansas open forum, other K-State community visit events on Dec. 5
Monday, Nov. 28, 2022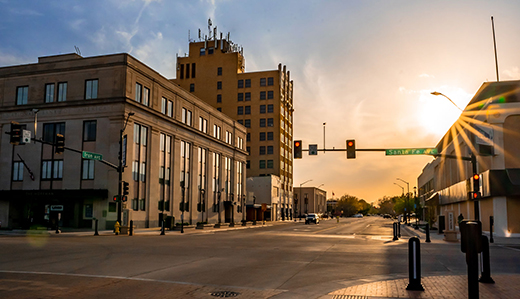 As part of the new presidential community visit initiative, K-State will host a community visit in the Central Kansas and Salina area on Monday, Dec. 5. (Photo credit: Boone Cumberland)


ANNOUNCEMENT: As part of the new Kansas State University presidential community visit initiative, K-State will host a community visit in the Central Kansas area on Monday, Dec. 5. The visit includes activities to engage with, listen to and learn from Kansans in Salina and the Central Kansas region.

President Richard Linton and K-State Connected 'Cats students will lead several events, including community conversations, recruitment activities and events to highlight university partnerships and K-State Research and Extension relationships. The Connected 'Cats students are all from Salina and include Ethan Brown, junior in marketing; Adelaide Easter, sophomore in bakery science and food science with a secondary major in global food systems leadership; and Yulissa Hernandez, junior in professional pilot.
SCHEDULE OF EVENTS: View a schedule with full details for the Dec. 5 Central Kansas community visit.

Media are invited to attend multiple community visit events throughout the day on Dec. 5. These events listed below are free and open to all Kansans: community members, leaders, families, current and future students and parents.
• Community open forum, 8:30-9:30 a.m., College Center Conference Room, K-State Salina, 2310 Centennial Road, Salina. Linton and the K-State Connected 'Cats students will host a dialogue about university and community connections and the student experience.
• Rural mental health and well-being, 12:30-1:30 p.m., Ellsworth Medical Center Conference Room, 1604 Aylward Ave., Ellsworth. Learn how the city of Ellsworth and local partners are taking a comprehensive approach in addressing mental health in rural communities.
• Responding to industry needs, 2:30-4 p.m., Great Plains Manufacturing. Take part in a facilitated conversation about ways that education in the Salina region is partnering to meet the needs of industry.
• Youth engagement: K-State at the Salina Public Library, 4:15-5:15 p.m., Salina Public Library, 301 W. Elm St., Salina. Join Linton; Thomas Lane, vice president for student life and dean of students; and the Connected 'Cats students as they partner with the Salina Public Library for two concurrent educational opportunities: Wildcat story time and Math Monday.
ARRANGEMENTS: Media members attending the Dec. 5 community open forum or other events throughout the day should RSVP to media@k-state.edu or call 785-532-2535 by noon Friday, Dec. 2.View a schedule with full details for the Dec. 5 Central Kansas community visit.
MEDIA AVAILABILITY: A brief media availability with Linton and the K-State Connected 'Cats students will occur shortly after the open forum. The open forum will be from 8:30-9:30 a.m. in the College Center Conference Room at K-State Salina, 2310 Centennial Road.
ABOUT THE COMMUNITY VISIT INITIATIVE: The new K-State presidential community visit initiative focuses on the people of Kansas and their communities. Every academic year, K-State will visit nine communities throughout the state to listen and learn from the Kansans who live there. Read the recent news release for more information.
QUESTIONS: Please contact staff with K-State News and Communications Services at 785-532-2535 or media@k-state.edu with questions.