University's commitment to diversity, inclusion earns national honor for eighth year in a row
Monday, Sept. 20, 2021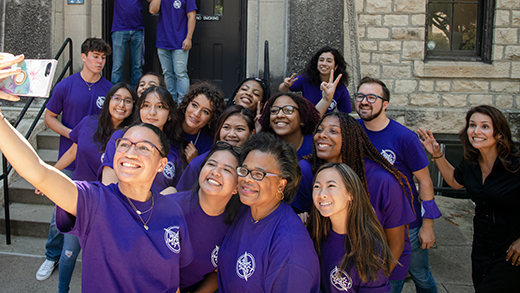 Kansas State University incoming, multicultural and first-generation students in agriculture, business and engineering participated in Kompass, a free, three-day extended summer orientation and freshman-year retention program. Kompass is part of Project IMPACT programming at the university.
MANHATTAN — Kansas State University is again being nationally recognized as one of the top universities for diversity and inclusion with the 2021 Higher Education Excellence in Diversity, or HEED Award, from INSIGHT Into Diversity magazine.

It is the eighth year in a row K-State has achieved this honor from the magazine, which is the oldest and largest diversity-focused publication in higher education. As a recipient of the award, presented to U.S. colleges and universities that demonstrate an outstanding commitment to diversity and inclusion, K-State will be featured, along with 100 other recipients, in the November issue of the magazine.

"The HEED Award symbolizes that Kansas State University remains true to its land-grant university mission to encourage diversity and learning opportunities created through societal differences," said Richard Myers, K-State president. "We're honored by this award, but we know we must always strive to be better. Our Action Plan for a More Inclusive K-State demonstrates our commitment to addressing racial and social injustices and ensuring this great university is and always will be a welcoming place for all."

Be Stoney, K-State's interim chief diversity and inclusion officer, said efforts must continue to maintain and sustain an action-oriented campus environment that promotes diversity and inclusion in everything it does, including teaching, research and outreach.

"Diversity, equity, inclusion and belonging are not a check-the-box conversation," Stoney said. "When we appreciate our differences, we reshape ourselves through a better understanding of issues related to diversity, equity, inclusion and belonging."

K-State continues to invest in many programs that encourage the recruitment, retention and graduation of multicultural and first-generation students, including First Scholars, Project IMPACT, Multicultural Academic Success and the Kansas Louis Stokes Alliance for Minority Participation. For the fifth consecutive year, K-State has been recognized by Campus Pride as among the best universities in the nation for LGBTQ inclusion in programs, policies and practices. K-State's more than 40 multicultural student organizations also have a reputation for excellence, including the Black Student Union, which as of 2020, had been named best Black student council in the Big 12 Conference 12 times in the last 16 years.

University efforts to build a diverse workforce and culture are also meeting with success. For the second year in a row, K-State was named a top employer by DiversityJobs.com. It was also the second year in a row that K-State was the only higher education institution in Kansas to achieve the distinction.

Other important steps in improving the university's diversity and inclusiveness are the addition of the Morris Family Multicultural Student Center, which opened last fall and has become a hub for intercultural learning and multicultural enrichment at K-State, and the appointment of the university's first student ombudsman, Kimathi Choma, April 1.

Stoney encourages everyone in the K-State community to participate in the many events the university offers to highlight diversity and inclusion. Upcoming events include the Midwest HALO Encuentro on Oct. 5, Indigenous Peoples Day activities on Monday, Oct. 11, the fifth KSUnite: Our Lens, Our Focus, Our K-State, scheduled for Tuesday, Oct. 12, and the Kansas LGBTQ+ Leadership Conference on Oct. 15. K-State also honors the work of civil rights leader Martin Luther King Jr. with the university's annual Martin Luther King Jr. Observance Week in January.

"Working side by side, we must all continue to promote and commit to making diversity, equity, inclusion and belonging a priority for students, faculty staff and community members who visit the campus," Stoney said.