Leadership, scholarship and service earn students membership to Chimes Junior Honorary
Thursday, April 15, 2021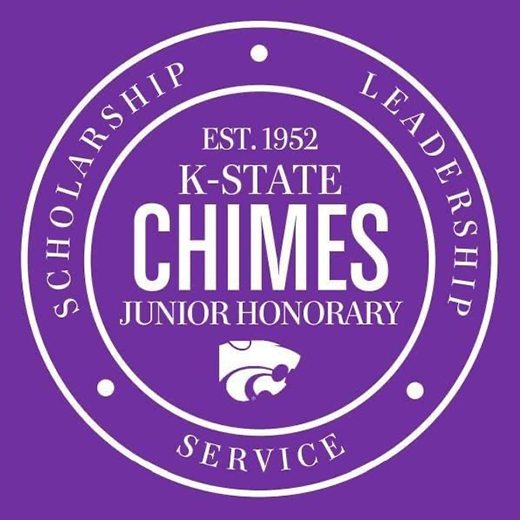 Chimes Junior Honorary members are ready to serve in the 2021-2022 school year. | Download this photo.
MANHATTAN — The junior honorary at Kansas State University, Chimes, has selected members for the 2021-2022 academic year.

Selection to Chimes is based on leadership, scholarship and service to fellow students at K-State and the community. Applicants also must have a 3.0 GPA or above. Chimes activities include selecting the K-State Family of the Year and members participate in monthly service projects in Manhattan and area communities.

The following students, all who will be in their third year at K-State in the next school year, are new members of Chimes; included are majors and hometowns:

Kylie Litavniks, finance and pre-law, Andover; Maddie Hoffman, accounting, Bonner Springs;
Ellie Fangman, biology and pre-medicine, Bucyrus; Jacobee Clason, elementary education, Fort Riley.

From Greater Kansas City: Brianna Streeter, life sciences and pre-dentistry, Kansas City; Tevis Blandi, business administration, Leawood; Kirsten Jackson, marketing and management, and Liz Zeit, biological systems engineering, both from Olathe; Emily Anderson, bakery science and management, Eli Berggren, construction science and management, and Jillian Dunlay, secondary education and English, all from Overland Park; and Grace Hartman, civil engineering, Shawnee.

Reagan Riley, human development and family science, Hiawatha; Morgan Phillips, animal sciences and industry, and pre-law, Hollenberg; Kaitlin Colle, chemical engineering, Hutchinson; Layne Schnurbusch, communication sciences and disorders, Independence; Maria Apel, psychology, Lindsborg; Kate Brull, biology and mathematics, Salina; Parker Vulgamore, agricultural economics and pre-law, Scott City; Kristen Hammes, educational studies and pre-occupational therapy, and Madeline Rogers, dietetics, both from Seneca; Katelyn Feist, industrial engineering, and Rachel Grollmes, communication studies, both from Topeka; and Leslie Carvalho, psychology, and Nathalie Wright, biology and Spanish, both from Wichita.

From Missouri: Maria-Claudia Smart-Rengifo, interior architecture & industrial design, Chesterfield, and Marta Richenburg, history and political science, and Brianna Wagoner, electrical engineering, both from Kansas City.