It's all about family: Kansas State University celebrates 90th annual Family Day on Sept. 15
Thursday, Aug. 30, 2018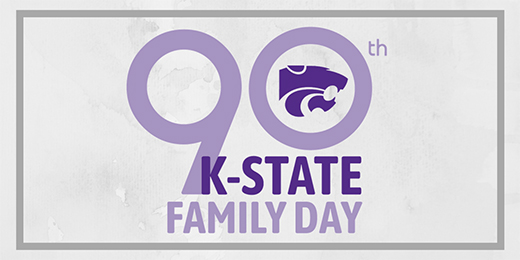 A special pinning ceremony, a tailgate and a "fillanthropy" event for the Cats' Cupboard and the Career Closet highlight Kansas State University's 90th annual Family Day on Saturday, Sept. 15. This K-State Family Day logo was designed by Logan Robertson, senior in fine arts, Shawnee.

MANHATTAN — One of Kansas State University's oldest traditions will mark its 90th anniversary Saturday, Sept. 15, when the university celebrates Family Day.

This year's Family Day features events that let families spend time with their K-State students, as well as a new activity to let all families help students in need. Per tradition, Family Day also will be highlighted with the recognition of the university's Family of the Year, as selected by Chimes Junior Honorary, at the K-State vs. University of Texas-San Antonio football game at Bill Snyder Family Stadium.

Family Day activities will start with the K-State Legacy Pinning Ceremony and Brunch, hosted by the K-State Parents and Family Association, at 9 a.m. in the Ballroom at the K-State Alumni Center. The ceremony recognizes the commitment of K-Staters across generations and concludes with parents, grandparents, aunts, uncles, siblings and others pinning current K-State students as a symbol of shared loyalty to the purple and white. Family members who are not alumni are honored with K-Stater by Choice recognition. Tickets are $15 per person and registration is required at k-state.com/alumni/calendar/index.php?eID=532.

The K-State Family Tailgate, also hosted by the K-State Parents and Family Association, will be at the Chester E. Peters Recreation Complex, adjacent to the southeast corner of Bill Snyder Family Stadium. Registration starts at 12:30 p.m., with the tailgate from 1-2:30 p.m. Tickets cost $15 per person must be purchased in advance online at k-state.com/alumni/calendar/index.php?eID=531. This casual pre-game tailgate includes food, the chance to purchase tickets to win $2,000 in free tuition for your student, and the opportunity to meet and interact with other parents, families and K-State administrators.

A new addition to this year's Family Day, Fill the Closet and the Cupboard, is an opportunity to help two key K-State student services through "fillanthropy." Donations of food and hygiene products will be accepted for the K-State food pantry, the Cats' Cupboard, and lightly used business professional attire can be given to the Career Closet, where K-State students can select appropriate clothing for job and internship interviews. All donated items can be dropped off in the courtyard at the K-State Student Union from 8 a.m. to 3 p.m. Sept. 15. Find out what items are needed most by visiting signupgenius.com/go/409044fa9a8283-kstate.

More events and activities are scheduled as part of Family Day and can be found online at k-state.edu/familyday/events.html. Among the highlights:

• Families are welcome to learn more about life on campus and around Manhattan on Friday, Sept. 14. Activities include working out at the Chester E. Peters Recreation Center, watching the K-State vs. Missouri State soccer match at the K-State Soccer Complex, bowling at the K-State Student Union's bowling alley, a behind-the-scenes tour of the university's College of Veterinary Medicine, a family-friendly film showing in the Union's Forum Hall and several fun activities in Aggieville, including an escape room and pottery studio. Check the Family Day website for details, costs and times.

• On Sept. 15, students and families are invited to check out campus, including residence hall and campus tours, and visiting the K-State Gardens and Insect Zoo, Berney Family Welcome Center, Marianna Kistler Beach Museum of Art, nearby Konza Prairie and more. Campus eateries, including the Derby Dining Center, Jardine Cornerstone Coffee and Bakery, JP's Sports Grill, Union Station by JP's Gastropub and Call Hall Dairy Bar, will be open. A Latin jazz band will perform and another family-friendly film will be shown at Forum Hall. Check the Family Day website for more information.