Picture this: National Geographic's Jim Richardson receiving honorary doctorate from Kansas State University
Wednesday, Sept. 20, 2017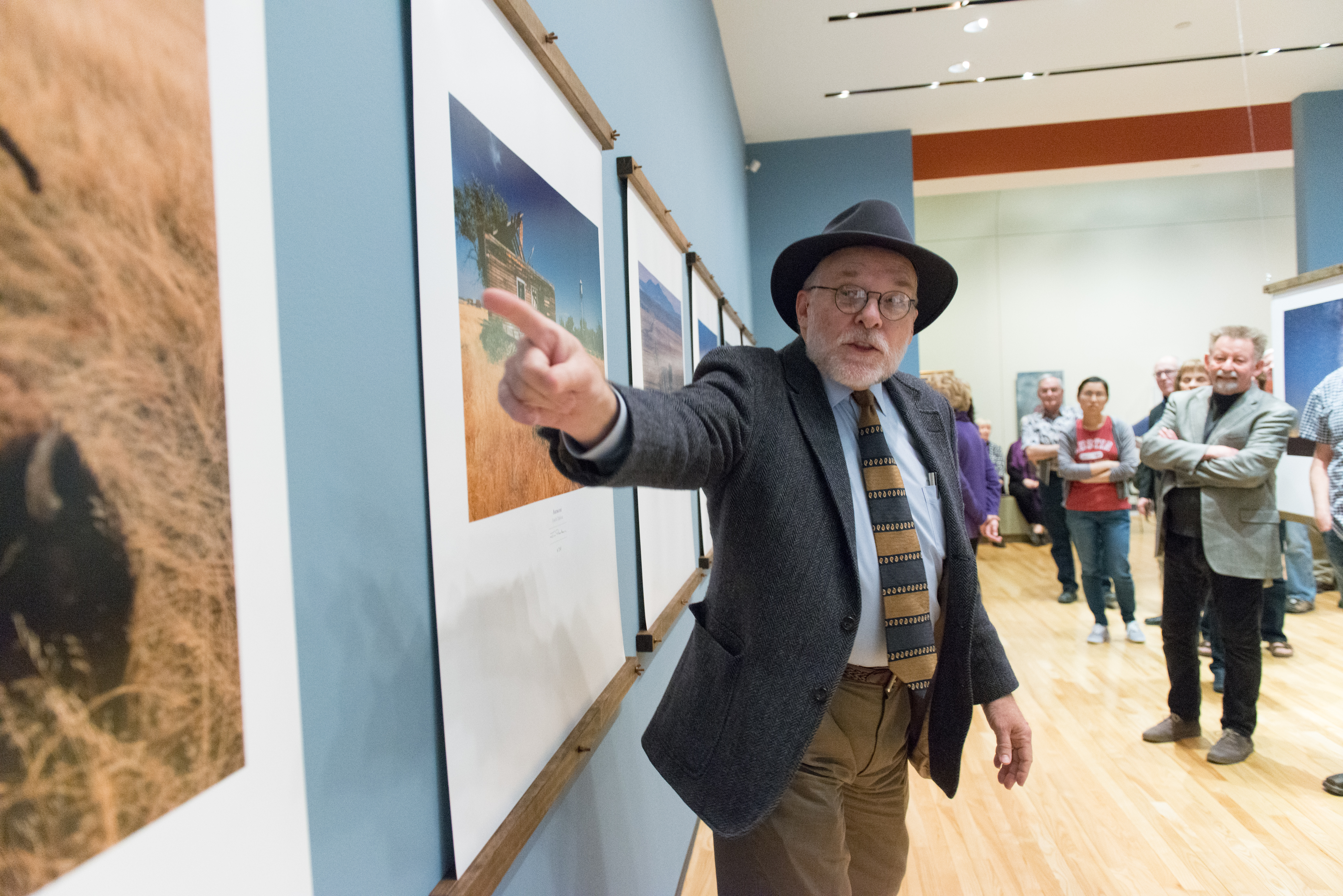 Noted photojournalist Jim Richardson gives a gallery talk about his work on display at Kansas State University's Marianna Kistler Beach Museum of Art in 2016. The university is awarding Richardson an honorary doctorate.| Download this photo.


MANHATTAN — Kansas State University will award an honorary doctorate at fall commencement to a noted Kansas photojournalist.

Jim Richardson, who has photographed for more than 30 stories in National Geographic and serves as contributing editor to its sister publication, Traveler magazine, will receive the honor at commencement for the university's Graduate School at 1 p.m. Friday, Dec. 8, in Bramlage Coliseum. He also will serve as commencement speaker at the ceremony.

The Kansas Board of Regents approved the university's request to award the honorary degree to Richardson at its Sept. 20 meeting. One of the highest honors the university bestows, Richardson will join some select company. Among individuals who have received an honorary doctorate from Kansas State University include President Dwight D. Eisenhower, composer Aaron Copeland and psychiatrist Karl Menninger. A full list is available at k-state.edu/about/history-traditions/honorary-degrees/index.html.

"Mr. Richardson has made significant contributions to communicating complex environmental problems and social issues through his compelling photographs and stories," said Carol Shanklin, dean of Kansas State University's Graduate School. "He has a passion for his work and is dedicated to such important issues as world food production and grasslands preservation. An exceptional Kansan, he continues to make a difference in the world."
From the tops of volcanic peaks to below the surface of swamps and wetlands, Richardson's work has taken him around the world. Raised on a wheat and dairy farm in north central Kansas, Richardson attended Kansas State University but never finished his degree in psychology. Instead, he pursued his interest in photography, landing an internship with the Topeka Capital Journal. He went on to have his photography published widely, including in Life magazine, The New York Times, Sports Illustrated and the Denver Post before gaining fame as a freelance photographer/photojournalist.

Richardson moved back to Kansas in 1997 and lives in Lindsborg. Kansas has been a major focus of his work, including a 22-page story in National Geographic on Cuba, Kansas, featuring photos he had taken of the town over a 30-year period. His work has toured internationally and he has appeared on ABC's "Nightline" and CBS' "Sunday Morning."

Richardson has received much acclaim for his work, including the classic photo essay "High School USA." He was named Kansan of the Year in 2007 and the 2016 gift print artist by the Friends of the Marianna Kistler Beach Museum of Art at Kansas State University. His work also was the focus of a recent exhibition at the museum, "Beneath the Prairie Sky."