Kansas State University construction projects add 1 million new or renovated square feet

Thursday, June 22, 2017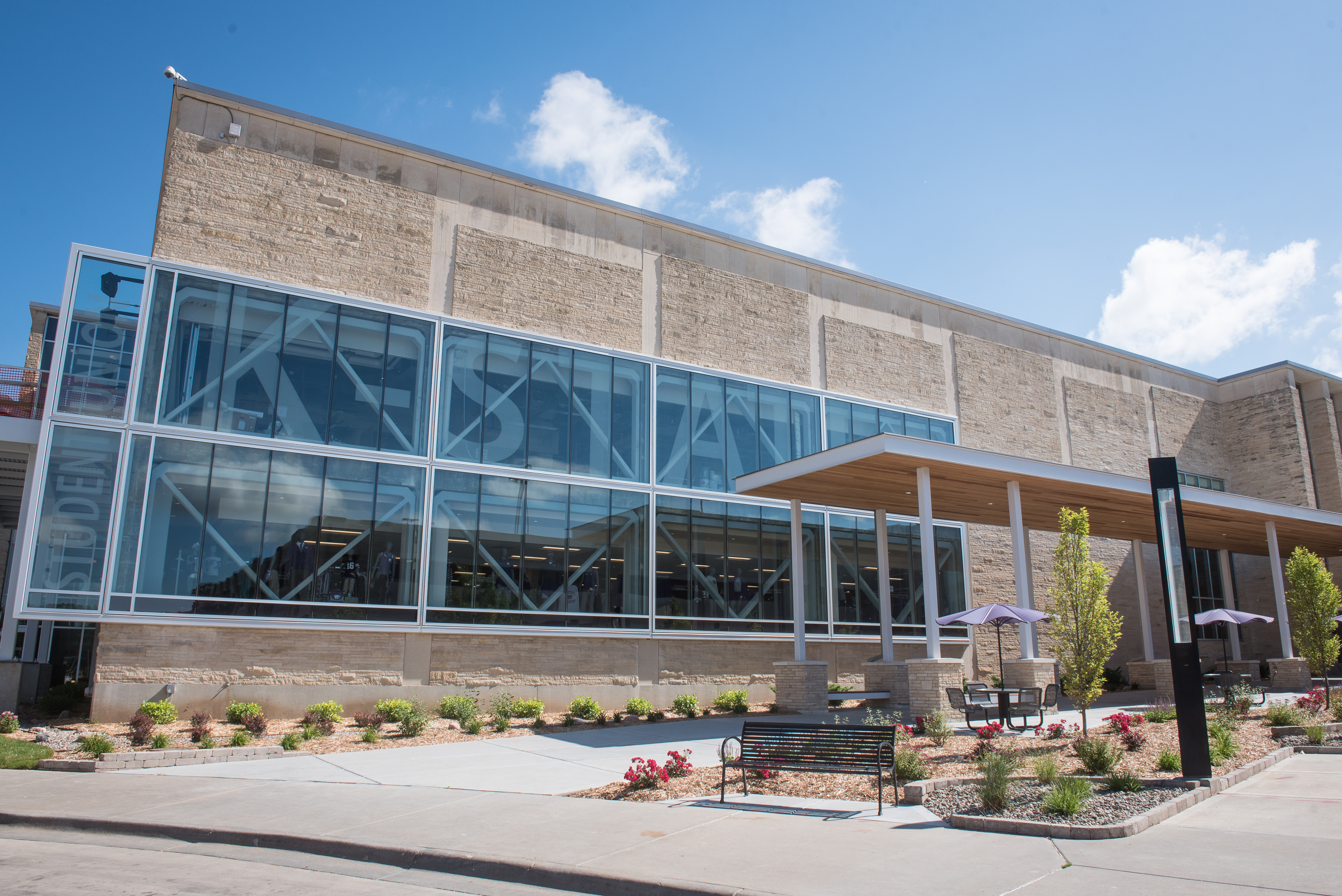 Throughout the 110,000-square-feet renovation, the K-State Student Union has remained open to serve students and now features a new south facade with large picture windows. | Download this photo.


MANHATTAN — Kansas State University infrastructure improvement projects in the last five years are building the university up to become a top university.

"By the start of the fall 2017 semester, the university will have added or renovated more than 1 million square feet of space on the Manhattan campus in the last five years," said K-State President Richard Myers. "These improvements with new technology and energy-efficient infrastructure help increase collaborative learning, multidisciplinary interaction and productivity for our students, faculty and staff — all part of the university's goal to become a Top 50 public research university by 2025."

On the Kansas State University Polytechnic Campus in the past five years, the university has renovated the Welcome Center, Outreach Center and the unmanned aircraft systems laboratory. New construction includes the Smoky Hill UAS Pavilion, one of the largest enclosed unmanned flight facilities in the nation, and the Bulk Solids Innovation Center.

The current and upcoming large-scale projects:

Seaton Hall renovation and expansion — The Seaton Complex is on schedule and expected to be ready for students and faculty in August. The 194,000 square feet of improvements include interdisciplinary design labs, an outdoor teaching amphitheater, a green roof, secure exhibit and gallery space, 20,000 square feet of fabrication and product design labs, collaborative spaces and an atrium commons. Watch the progress on a live webcam. On Oct. 13, the College of Architecture, Planning & Design will host a dedication of the newly constructed section, Regnier Hall, named in honor of the family who gave the lead gift.

K-State Student Union renovation — Throughout the 110,000-square-feet renovation, the Union has remained open to serve students and now features a new south facade with large picture windows, collaborative student lounges, consolidated student activities offices, and expanded coffee house and dining options. Wildcat Chamber, formerly the Little Theatre, reopened June 1 and includes new furniture and technology. The Union Station by JP's, a partnership between the Union and the university's Housing and Dinning Services, will open in fall 2017 and will emphasize locally sourced ingredients. The renovation project was approved by a student body vote in April 2013, which increased privilege fees to help fund the $31 million project. It is expected to be finished in fall with a remodel celebration scheduled Oct. 13.

Bill Snyder Family Stadium phases IV and V — Work in phases four and five of the stadium project includes adding video and ribbon boards and making sound system improvements around the stadium for an increased fan experience. A new limestone wall ties into Vanier Complex at the north end, and the club level on the east side is receiving cosmetic improvements. All are expected to be completed in August.

Pittman freezer renovation — Approved by the Kansas Board of Regents in March 2016, the project updates the university's mass food storage freezer to maintain safe food storage for Housing and Dinning Services. The cost of the project is paid through Housing and Dining auxiliary funds. The project is expected to be complete in July.

Trotter Hall renovation — Expected to be complete by the spring 2018 semester, the nearly 13,000-square-foot renovation in Trotter Hall will separate the anatomy labs, microanatomy labs and student study space to give teaching faculty and students more functional areas for each task. Before construction, these areas were combined in one large area on the third floor. The renovation also will include more efficient features for teaching and learning of animal anatomy; ADA-compliant restrooms, including a shower; and life and fire safety improvements. The $4.7 million renovation is funded by private gifts and College of Veterinary Medicine general fees funds.

K-State Office Park — The Kansas State University Foundation broke ground on June 8 for phase II, which will add 59,000 square feet to the K-State Office Park. The Office Park is expected to attract corporate partners who want to work with the university faculty and students. Phase II, funded by a private foundation investment, tax credits and city economic development loans, will feature accommodations of up to 35 tenants, intentional co-working areas and a restaurant. The phase is expected to be complete in August 2018.

Electrical systems improvements — Approved by the Kansas Board of Regents on June 14, the university will start upgrading the electrical systems of 18 buildings on the Manhattan campus. Some systems haven't been updated since 1923, which has caused power outages in a few buildings affecting students, faculty and staff. Service upgrades of transformers and low-voltage service for buildings in phase one and planning for phase two will start in August and are expected to be complete August 2018 and June 2019, respectively. The upgrades will be paid from bonds issued by the Kansas Development Finance Authority.

Agronomy Education Center — To be built next to Kansas State University's agronomy farm north of Kimball Avenue, the center will include climate-controlled teaching facilities and an exhibition hall to facilitate technology sharing and outreach. Construction is expected to start in winter 2017-2018.

In the past five years, the university has added a new College of Business Building, Engineering Hall, Wefald Hall, Equine Performance Testing Facility, Purebred Beef Unit, the Kansas State University Foundation building as part of phase I of the K-State Office Park, and the Manhattan Campus Chilled Water Distribution and Plant Infrastructure project, which has given the university about seven miles of chilled water cooling pipes for most Manhattan campus buildings. The university also has renovated the Chester C. Peters Recreation Complex, East and West WW1 Memorial Stadium to include the new Berney Family Welcome Center, many new Jardine Apartments, and built or renovated many K-State Athletic facilities.

In addition, several repair and rehabilitation projects are scheduled for fiscal year 2018. The projects include roof replacement and maintenance, repair to campus infrastructure, utility maintenance, fire code compliance, painting, stone replacement and repair, repairs and updates to general use classrooms, and building repairs on the Manhattan and Polytechnic campuses.