Budgeting for college: Kansas State University sends financial aid award notices early to help students, families plan
Thursday, Feb. 16, 2017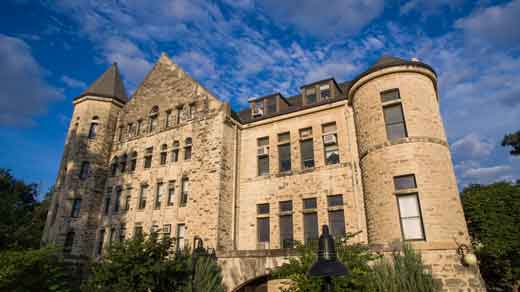 Kansas State University's Office of Student Financial Assistance in Fairchild Hall is emailing financial assistance award notices earlier than before to incoming freshman students who have applied through the Free Application for Federal Student Aid. Students have until May 1 to accept the packages in the university's student information system. | Download this photo.


MANHATTAN — Kansas State University has started packaging federal and state aid for incoming 2017 fall semester freshmen — about two months earlier than past years.

The first round of new, incoming undergraduate freshman who applied and were eligible for aid through the Free Application for Federal Student Aid, or FAFSA, received aid packages notifications via their K-State email, and any parent email listed as part of the application, on Feb. 13. Students should respond to the offers in K-State's Student Information System, or KSIS.

"We are sending out notifications about financial assistance earlier than ever before," said Robert Gamez, director of student financial assistance. "This gives students and their families more time than in past years to prepare for the costs of a college degree and help them understand what financial assistance is available to them."

According to Gamez, the federal government introduced two significant changes to the FAFSA for the 2017-18 academic year.

"The first change is that income/federal tax information can now reference an earlier calendar year, effectively removing the stress often encountered by families who struggled to complete their federal taxes to meet a school's FAFSA priority date," Gamez said. "The second change is the FAFSA application is available three months earlier than ever before."

The two changes allow students and families applying for aid for the 2017-18 academic year to use information from the 2015 tax year in the FAFSA application, meaning they could have completed the FAFSA as early as Oct. 1, 2016.

"We know that money is very important for students and parents," said Pat Bosco, K-State's vice president for student life and dean of students. "Planning all aspects of a college degree is essential, so the Division of Student Life and the Office of Student Financial Assistance are working together to make that planning possible and a college degree attainable for a variety of situations."

As students continue to apply for assistance, the university will evaluate students' needs and organize aid to assist with tuition.

"Kansas State University provides roughly $240 million in various forms of financial aid to students," Bosco said. "Approximately 70 percent of our student population has some form of assistance through student loans, grants, scholarships or work-study programs."

For students interested in working a part-time job on campus while attending school, Kansas State University provides about $1 million through the Federal Work Study program, which is targeted at high-need students who have met the university's March 1 FAFSA priority date and indicated an interest in working. In addition, the university has historically provided about $16 million in regular, non-Federal Work Study on-campus job opportunities to students who desire an additional means of paying for college, Gamez said.

"The biggest challenge we face is putting students and families in contact with the right resources and that's really what our office does," Gamez said. "We encourage parents and students to let us know if they've received their assistance package and the financial outcome still makes a college degree unattainable. Our office is here to make things easier for students and parents as they navigate through the financial aid process, which can be a little overwhelming at times."

Kansas State University also provides several alternative financial assistance services to help with daily challenges such as SALT, a free online program to manage money and student loans, and Powercat Financial, which offers free peer financial counseling for dealing with student debt, budgeting, credit cards, saving, salary negotiations and more.

"It's important that my students and families know we are working hard to make sure no one falls through the cracks when it comes to being considered for financial assistance at K-State," Bosco said.