Research from Kansas State University shows that daily exercise helps dairy cows reduce effects of heat stress
Friday, Oct. 14, 2016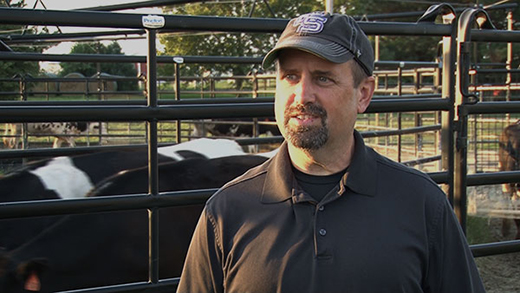 Kansas State University animal scientist Tim Rozell studies how dairy cows can resist the negative effects of heat stress. In collaboration with the university's Division of Biology, scientists are getting cows to exercise early in the morning and finding that it improves their milk production and overall health. | Download this photo.


MANHATTAN — For several days a week during the summer, a handful of Kansas State University faculty and students took a couple dozen dairy cattle to a small paddock north of the Manhattan campus.

The reason? Exercise. Early-in-the-morning, get-your-heart-pumping exercise before breakfast — for the dairy cows.

"We are doing a project where we are looking at the effect of exercise on heat stress in dairy cattle," said Tim Rozell, a professor of animal sciences and industry. "This is a real problem for dairy animals; they have a lot of struggles when it gets hot out, and we have hot summers in Kansas."

Project technician Phil Steichen, a teaching associate in the animal sciences and industry department, and the rest of the team have built a circular exercise device with moving panels that gently keep the animals on their walking routine.

The project includes a control group that doesn't exercise; a low-intensity exercise group that walks at a slow pace for an extended period of time; and some heifers that receive high-intensity interval-type training with alternating periods of fast and slower walking at increasing rates, Rozell said.

Ashley Rhodes, teaching associate professor in the Division of Biology, and Abi Wilson, master's student in biology from Alpharetta, Georgia, record weekly measurements of the cattle. They monitor their weight, take blood samples, and track their heart rate before and during exercise.

"At the beginning and end of each trial, we take muscle biopsies," Wilson said. "We are looking at specific enzymes, hormones and any changes in the skeletal muscle that may enhance their tolerance to heat, pregnancy rates and milk production."

Muscle characteristics are being evaluated in a collaborative effort with John Gonzalez, an assistant professor of animal sciences and industry.

"If we improve these heifers' fitness, we hope that they can tolerate the heat much better," Wilson said. "Therefore, farmers can yield higher reproductive rates and greater milk production rates."

Rozell said the connection with the university's Division of Biology is a good one. Rhodes has had an interest in the physiology of heat stress in wildlife and its increased severity because of global climate change. Dairy cattle serve as a model for heat stress in other large animals.

Rozell said the university has conducted similar research trials for three years. Preliminary results from earlier tests conducted by Jessica Johnson, who was a doctoral student in animal science at the time and is now a teaching assistant professor of biology, show that cattle that exercise regularly spend less time in an elevated temperature, so they are less susceptible to the negative effects of hot days, according to Rozell.
"We see increased protein in milk from exercised cattle," he said. "Last year, for example, we exercised pregnant heifers up to three weeks before they underwent parturition, and even 15 weeks or so into milk production, we saw increased protein in their milk, elevated lactose and other improvements in milk production."

The exercise routines for the high-intensity group are similar to those followed by athletes.

"We've used a lot of human research in developing our exercise protocols," Rozell said. "We've looked at something called lactate threshold in dairy cattle. We know about where they switch over their metabolic system from aerobic to anaerobic metabolism, and so we are trying to exercise them around that point, and that's based on human research."

Wilson treats the cattle as a coach would treat her athletes. She whoops, hollers and whistles to encourage them during their daily routine.
"They're all very unique," she said. "We give them names and they all have their own personality. In the morning, some of them skip down to the exerciser, excited, kicking up their heels.

"I enjoy getting up in the mornings and hanging out with cows," Wilson said. "They're fun to be around. Dairy cows are exceptionally friendly. They'll kiss on you and play with you. Just getting out and watching the sun come up in the morning and exercising with them is really fun. It's really rewarding."

Now that the team has shown exercise has positive effects on heat stress and milk production, Rozell said the university is moving toward developing recommendations that would help dairy producers incorporate sensible exercise protocols for their own herds.

The project has received funding from the Livestock and Meat Industry Council, the Kansas Dairy Commission and the Kansas Agricultural Experiment Station.