Band Day 2016 features halftime show with more than 2,000 performers
Monday, Sept. 12, 2016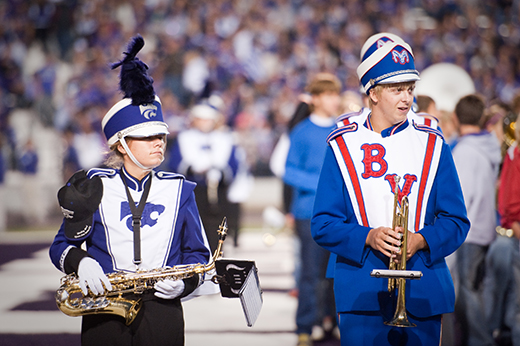 Kansas State University's popular Band Day, Saturday, Sept. 24, will feature more than 2,000 performers participating in a halftime show of the K-State vs. Missouri State football game. | Download this photo.
MANHATTAN — The Pride of Wildcat Land, the Kansas State University Marching Band, will be joined by band alumni and high school bands from across the state for Band Day at the football game Saturday, Sept. 24, between the Wildcats and Missouri State.

The more than 2,000 performers on the field during halftime of the game will represent past, present and future members of the Pride of Wildcat Land, said Frank Tracz, professor of music and director of bands at Kansas State University.

"Band Day is a wonderful way to not only showcase the band, but the university as well," Tracz said. "We bring students onto our campus who have never been here before, expose them to great people, and provide them with an experience that they will enjoy and remember for a long, long time. And, in many cases, we light the 'purple fire' within these young people to give us a good look for their future education."

The 2016 Band Day song selections include "March of the Resistance," "Uma Thurman," "1812 Overture" and the well-loved "Wabash Cannonball" and "Wildcat Victory."

The following high school bands are scheduled to participate in Band Day:

Wabaunsee High School, Alma; Great Bend High School, Great Bend; Halstead High School, Halstead; Herrington Junior-Senior High, Herington; Junction City High School and St. Xavier Catholic High School, both in Junction City; Lincoln Junior-Senior High School, Lincoln; Manhattan High School, Manhattan; Marysville High School, Marysville; Jayhawk-Linn High School, Mound City; Mulvane High School, Mulvane; Pretty Prairie Junior-Senior High School, Pretty Prairie; Blue Valley High School, Randolph; Riley County High School, Riley; Rossville Junior-Senior High School, Rossville; Rock Creek High School, St. George; Scott Community High School, Scott City; Spearville High School, Spearville; Remington High School, Whitewater; and Jefferson County North, Winchester.