PARTNERSHIP ADDRESSING FUTURE AGRICULTURAL NEEDS RELATED TO CLIMATE VARIABILITY
A newly formed partnership will enable Kansas State University to help rural communities identify ways to adjust to future climate scenarios that may affect their families and livelihoods.
NOTEWORTHY
Donna F. Ekart published "Flickr Four by Four," Computers in Libraries, Vol. 30, No. 7.
ON CAMPUS
STUDY ABROAD EXHIBIT ON DISPLAY AT COLLEGE OF ARCHITECTURE, PLANNING AND DESIGN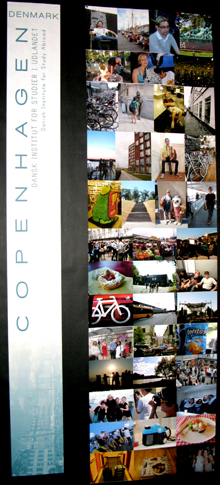 Projects by College of Architecture, Planning and Design students in spring and summer 2010 study abroad programs offered by Kansas State University are on display through Oct. 8 in the Chang Gallery and the first floor hallway of the east wing of Seaton Hall.

The exhibition is free and open to the public. The gallery is open 8 a.m. to 5 p.m. weekdays. The exhibit also will be open 10-11 a.m. Saturday, Sept. 25, for K-State's Family Day visitors.
PICTURE PERFECT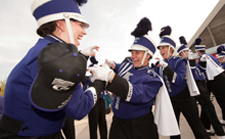 For creative professional images contact university photographer David Mayes at 785-532-6304 or photo@k-state.edu
For a gallery of Mayes' photos, go to: http://ksuphoto.zenfolio.com
OPPORTUNITIES
CLASSIFIED
• A recording of classified job opportunities is available 24 hours a day on the Employment Information Line, 785-532-6271.
• A list of employment opportunities is posted at www.k-state.edu/hr/
• For additional information, call 785-532-6277 or come to the Division of Human Resources in 103 Edwards Hall. Applications are accepted 8 a.m. - 5 p.m. weekdays.
UNCLASSIFIED
• A complete listing of vacancies can be seen at www.k-state.edu/affact/
• For additional information, call the office of affirmative action at 785-532-6220 or come by 214 Anderson Hall.
For previous issues click here
The next issue is Sept. 29.
Submit items by noon Sept. 24.
140 CHARACTERS ARE ALL YOU NEED TO KNOW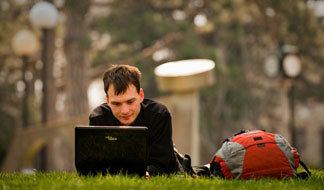 Many staff and faculty members across campus have started using Twitter to reach a specific audience, stay abreast of current events or build followers. Unlike other social media, Twitter doesn't get bogged down with meandering blogs, flashing advertisements or distracting games.
OH, BY THE WAY
HERNDON TO GUIDE UNIVERSITY'S WEB PRESENCE
An individual who successfully managed Web teams at four colleges and universities has accepted the position of university web director in Kansas State University's Division of Communications and Marketing.
William H. "Bill" Herndon Jr., currently the Web services manager at Indiana State University, Terre Haute, will direct the newly created web services unit in communications and marketing. Read more
NOMINATIONS FOR THE 2011 UNIVERSITY DISTINGUISHED PROFESSORS
The University Distinguished Professor opportunity, coordinated through the Office of the Provost in conjunction with the University Distinguished Professors Group (UDPG), will consider new appointments for 2011. In addition to this distinguished title, each appointee shall receive an enhancement of $10,000 added to their base. Read more
MID-TERM ACADEMIC PROGRESS REPORTS FOR FRESHMEN
The forms for collecting mid-term academic progress reports are now posted
on iSIS. These forms will remain available until 5 p.m., Monday, Sept. 27, 2010. Read more
PEER REVIEW OF TEACHING PROGRAM
The objective of the Peer Review of Teaching Program is for faculty members to develop and document their teaching by producing course portfolios. These documents potentially will enhance the standing of teaching as a serious component of faculty members' careers. The project effort supports faculty in the development of a community of scholars who write about the intellectual work involved in their teaching and who share that writing with interested colleagues. Read more
K-STATE'S CANCER CENTER INVITES APPLICATIONS FOR UNDERGRADUATE CANCER RESEARCH AWARDS
The Terry C. Johnson Center for Basic Cancer Research at Kansas State University is now accepting applications for its 2010-2011 undergraduate student cancer research awards.
The center annually grants up to 50 undergraduate cancer research awards to encourage undergraduate participation in cancer-related laboratory research. Winning students conduct research projects during the spring semester and receive $1,000 awards at the end of the semester. Faculty mentors also receive $1,000 per student to help cover research expenses. Read more
IDT ROUNDTABLE FALL 2010: FREE TOOLS, PREZI, DRAMATIZED VIDEOS
The Instructional Design and Technology Roundtable series starts off with Free Tools That Rule, 11 a.m.-12:30 p.m. Thursday, Sept. 23, in the K-State Student Union, room 212. This is a joint session that kicks off K-State's IDT Roundtable and TechBytes series for fall semester. Join us to learn about many of the free tools available on the Web. Read more
SPSS SOFTWARE PRICING GOING UP
IBM SPSS pricing is going up Sept. 28. While this will not impact the campus SPSS-PC license renewal costs this year, it does impact purchases of add-ons made after that time. Read more
IMAN OUTSTANDING FACULTY AWARDS
The K-State Alumni Association is once again awarding the Dr. Ron and Rae Iman Outstanding Faculty Awards for research and teaching, each in the amount of $5,000.
Please visit www.k-state.com/imanawards to download a nomination form and view a complete list of the criteria for each award. Nominations are due to the K-State Alumni Association by Oct. 4, 2010. Read more
COLLEGE OF ENGINEERING FALL CONVOCATION
Thursday, Sept. 16, the College of Engineering held their fall convocation in Fiedler Hall Auditorium and handed out awards to faculty and staff. Read more
PRIDE OF WILDCAT LAND MARCHING THROUGHOUT THE FALL SEMESTER
The Pride of Wildcat Land, the Kansas State University Marching Band, will perform at a variety of locations throughout the fall 2010 semester. Read more
MASSACHUSETTS COUPLE ESTABLISHES FIRST ENDOWED DEANSHIP AT K-STATE
Paul and Sandra Edgerley, Brookline, Mass., have made a commitment of $5 million to the College of Business Administration at Kansas State University to establish the Edgerley Family Endowed Deanship in the College of Business Administration. Read more
WINE AND CHEESE TASTING TO BENEFIT STUDENT CHAPTER OF PROFESSIONAL CONVENTION MANAGEMENT ASSOCIATION
"The best wines you've never tasted" will be featured at a wine and cheese tasting, Friday, Sept. 24, sponsored by the Kansas State University student chapter of the Professional Convention Management Association. Read more
CENTER FOR CHILD DEVELOPMENT EARNS NATIONAL ACCREDITATION
Kansas State University's Center for Child Development has earned accreditation from the National Association for the Education of Young Children, or NAEYC -- the nation's leading organization of early childhood professionals. Only 8 percent of all programs in the nation achieve the association's accreditation. Read more
BLUES LECTURE AND PERFORMANCE TO CAP OFF COMMUNITY CULTURAL HARMONY WEEK
Adam Gussow, an associate professor of English and Southern studies at the University of Mississippi, will give a lecture to cap off Community Cultural Harmony Week at Kansas State University.
Gussow will present "It's All Mississippi to Me: Promoting the Blues and Forging Beloved Community in the Contemporary South" at 10:30 a.m. Friday, Sept. 24, in the Leadership Studies Building's Town Hall. The lecture is free and open to the public. Read more
TAP DANCE ENSEMBLE HOSTS IMPROVISATION NIGHT SEPT. 24
Bring your tap shoes and a friend to the Kansas State University Tap Dance Ensemble's first-ever improvisation night, 5-7 p.m. Friday, Sept. 24, at Salsarita's in the K-State Student Union.
The improvisation night features live music and a tutorial on basic tap-dance steps, as well as a finale performance by the ensemble. The event is free and open to the public. Read more
NEW RECYCLING INFORMATION
Glass beverage bottles and plastic bottles may now be recycled at the same location. All recycling bins taking plastic bottles now also take glass bottles. Facilities is in the process of changing the signage on the collection bins to indicate this change. Read more
Editor: Emily Vietti
Coordinator: Julie Fosberg
Phone: 785-532-2535
Fax: 785-532-7355
E-mail: media@k-state.edu