140 CHARACTERS ARE ALL YOU NEED TO KNOW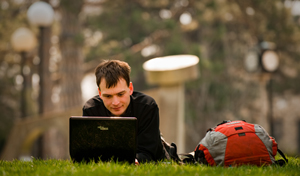 Many staff and faculty members across campus have started using Twitter to reach a specific audience, stay abreast of current events or build followers. Unlike other social media, Twitter doesn't get bogged down with meandering blogs, flashing advertisements or distracting games.
"People will talk about Twitter, texting and all the rest as the decline of civilization, the decline of the written word and the decline of the spoken word," said Philip Nel, English professor and director of graduate program in children's literature. "That's just silly. Composing something in 140 characters is like writing a poem. Every word, every character, needs to have maximum impact."
Nel said the "signal-to-noise ratio" is much better than Facebook where people must sift through ads, Farmville and vacation photos. On Twitter only the information is needed to enlighten, illuminate or direct traffic to another site.
"It's a means of education," Nel said. "When you find articles and ideas that seem of merit, you can share them through Twitter."
Other benefits are the potential to reach a wider public, Nel said. As a professor and published author, Nel uses Twitter to tell others about what he does all day in his department as well as to build an audience for his books.
"It's a useful communication option," said Greg Eiselein, English professor. "It forces you to be very compressed and concise. It doesn't produce elegant communication, but it could."
Eiselein said with the younger generation compressing their words into text abbreviations, sometimes it takes longer to decipher than if the "texters" had simply spelled out the message.
Twitter is a great way to stay up-to-date on what is trending, Eiselein said. It's a way to get a sense of what people are thinking about and reacting and responding to almost immediately. For example, a person who wants to know if a movie is worth seeing can search tweets and read how others reacted after watching it. "If lots of tweets are positive, the movie might be worth watching," he said.
"You can track a variety of things with a relatively low intensity of commitment," said Jim Hohenbary, assistant dean for scholarship administration. "You don't have to search anything out. You can choose whose tweets you want to follow, and then you can look at it and be done with it in almost no time at all."
In the late spring Hohenbary began tweeting nationally competitive scholarship deadlines as a way to reach students.
"I feel students are paying more attention to new media than to traditional media," Hohenbary said. "My mission is to facilitate scholarship participation across campus. The more students I can get to follow, the better."
Hohenbary said his tweets are not "self-sufficient nuggets of information," and students will need to follow up with him or go to the website he includes in his tweets for more in-depth information.
"It's a quick read," said Bobby Imbody, instructor for communication studies, theater and dance. "It's nothing too in depth. I like the minimalism of it."
Imbody, as assistant director of the forensics team, first began using Twitter two years ago. He said it's a great way for fans and parents to track the team.
This summer, during an intersession class on communications and baseball, Imbody began using Twitter in the classroom.
"I thought it would be a good way to get students engaged in technology," Imbody said. "Not all K-State classrooms are as technologically equipped as we would like them to be. This is a good way to make them engage with technology even if we can't do that in the classroom every day."
Imbody said the students follow an account set up by him that focuses on baseball. He posts things he finds in the news or posts something about the readings for the day. The students are not only required to follow the account, but also to post their own findings on the sport.
"It works with a specific topic like baseball because there's so much out there," Imbody said. "Every major league baseball team, every minor league team and the people who write about each team, have their own Twitter accounts where they post viable, good information every day."
Imbody plans to incorporate the Twitter following in his K-State First program class during the fall semester. With the new freshmen entering college, he said the benefit of a Twitter account gives the new students anonymity and makes it easier for them to contribute.
"This will allow us to stay in more contact and see each other on a different level," Imbody said. "It allows us to open more lines of discussion. Students in college classes aren't always ready to contribute in class every day. Your goal as a teacher is to get them ready to do that and make them better at it. I think Twitter will give us an avenue for people to contribute."
Whether people are following their favorite topic, sharing nuggets of information or opening lines of communication, these faculty members agree that Twitter's 140-character limit makes it ideal for all facets of academia.