FILM FESTIVAL ENTERS SIXTH YEAR ON K-STATE CAMPUS
The Movies on the Grass film festival, now in its sixth year on campus, features independent films and documentaries. This year's festival covers topics such as peace, recycling and immigration reform.
NOTEWORTHY
Candice Shoemaker, professor of horticulture, forestry and recreation resources, published "Student Confidence as a Measure of Learning in an Undergraduate Principles of Horticultural Science Course," HortTechnology, Vol. 20, No. 4.
ON CAMPUS
K-STATE'S CHAPMAN GALLERY FEATURES EXHIBITION BY MASTER'S STUDENT FROM LAWRENCE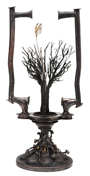 An exhibition of artwork by Lynn Cool, a master of fine arts student from Lawrence, will be on display Sept. 7-17 in Willard Hall's Mark A. Chapman Gallery.
"Amalgamation," Cool's thesis exhibition, includes sculptural art pieces inspired by traditional European goldsmithing, which she researched while living in Finland in 2008. Her pieces are fabricated from copper and silver sheet into hollow forms called holloware.
"My work offers a variety of metalworking technical skills found in both traditional holloware and jewelry forms, such as chasing and repousse, enamelwork, and stone setting to illustrate themes of nature and memory," she said. "Unlike historical holloware forms, each of these artworks contains a removable component that can be worn as a jewelry art piece. It makes my work distinct from traditional metalworks of presentation cups, trophies and liturgical objects created during the medieval and Renaissance eras."
The exhibition is a requirement for Cool's master's degree. She earned her bachelor of fine arts degree from the University of Kansas.
The Chapman Gallery is open 8 a.m. to 5 pm. Monday through Friday. Admission is free. The closing reception is 5-8 p.m. Friday, Sept. 17, at the gallery. The public is invited.
PICTURE PERFECT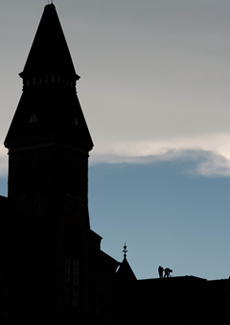 **Walk-in portraits for faculty and staff are from 10 a.m. to noon and 1 to 3 p.m. Monday, Oct. 4. Photo Services is located in Studio B of Dole Hall.**
For creative professional images contact university photographer David Mayes at 785-532-6304 or photo@k-state.edu
For a gallery of Mayes' photos, go to: http://ksuphoto.zenfolio.com
OPPORTUNITIES
CLASSIFIED
• A recording of classified job opportunities is available 24 hours a day on the Employment Information Line, 785-532-6271.
• A list of employment opportunities is posted at www.k-state.edu/hr/
• For additional information, call 785-532-6277 or come to the Division of Human Resources in 103 Edwards Hall. Applications are accepted 8 a.m. - 5 p.m. weekdays.
UNCLASSIFIED
• A complete listing of vacancies can be seen at www.k-state.edu/affact/
• For additional information, call the office of affirmative action at 785-532-6220 or come by 214 Anderson Hall.
For previous issues click here
The next issue is Sept. 15.
Submit items by noon Sept. 10.
UNIVERSITY SEES RECORD YEAR FOR RESEARCH FUNDING
K-State received a increase from the previous record of $133.6 million during the 2008-2009 fiscal year, and a jump from the $118 million awarded in the 2007-2008 fiscal year. During the past two fiscal years, K-State has seen a nearly $30 million increase in research awards despite the economic recession.
OH, BY THE WAY
STATE'S THREE RESEARCH UNIVERSITIES TO UPGRADE SHARED DATA NETWORK WITH NATIONAL SCIENCE FOUNDATION GRANT
The National Science Foundation has awarded $1.176 million over two years to Kansas' three research universities to upgrade a shared data network.
The collaboration involves K-State, the University of Kansas and Wichita State University, and will better connect the state's educational institutions. Read more
DEPARTMENT OF EMPLOYEE RELATIONS AND TRAINING MERGES
The department of employee relations and training recently merged into the division of human resources. It's now called the department of employee relations. Read more
CASEY LAUER JOINS K-STATE AS FIRST DIRECTOR OF ENERGY AND ENVIRONMENT
As the first director of K-State's energy and environment program, Casey Lauer is a man with a plan for campus energy efficiency.
Lauer, who joined K-State in July, is tasked with developing a universitywide approach for energy conservation. Read more
DOROTHY L. THOMPSON LECTURE SERIES OPENS WITH DISCUSSION ON JUDICIAL DIVERSITY
A distinguished group of Kansas judges will open Kansas State University's 2010-2011 Dorothy L. Thompson Civil Rights Lecture Series and be part of the university's observance of Constitution Day.
"Who Will Judge You? Advancing Judicial Diversity" will be at 7 p.m. Wednesday, Sept. 15, at the K-State Student Union's Forum Hall. The lecture is free. The lecture is presented in partnership with the League of Women Voters Manhattan/Riley County. Read more
SEPTEMBER USHERS IN MUSIC DEPARTMENT'S FALL PERFORMANCE SEASON
The music department kicks off its fall season of performances with a variety of musical events this month. Read more
K-STATE CANCER RESEARCH CENTER'S ANNUAL REGIER GOLF TOURNAMENT FRIDAY
Golfers can help K-State fight against cancer at the 13th annual Rob Regier Memorial Golf Tournament on Friday. Proceeds will support K-State's Terry C. Johnson Center for Basic Cancer Research. Read more
PRESENTATION ON AMERICAN QUILTS IN MODERN AGE SEPT. 10
Patricia Crews, director of the International Quilt Study Center and Museum at the University of Nebraska-Lincoln, will discuss the history of American quilts Friday, Sept. 10, at K-State.
Crews will present "American Quilts in the Modern Age, 1880-1940" at 4:30 p.m. in All Faiths Chapel. Her talk will look at how Americans responded to rapid industrialization, urbanization and immigration as reflected by quilt designs and techniques. Read more
Interim editor: Greg Tammen
Coordinator: Julie Fosberg
Phone: 785-532-2535
Fax: 785-532-7355
E-mail: media@k-state.edu