UNIVERSITY HOUSING AT CAPACITY; K-STATE STAFF WORKING WITH COMMUNITY TO FIND SPACE FOR NEW STUDENTS
The popularity of on-campus student housing on K-State's Manhattan campus has resulted in exceptionally high demand. This is in spite of the campus addition of more than 700 student spaces in the past three years.
NOTEWORTHY

Susanne Siepl-Coates, architecture, presented "User Perceptions on the Architecture of the Palliative Care Center in Goettingen, Germany," second annual Symposium on Architecture, Culture and Spirituality, June 17-19, St. John's Abbey, Collegeville, Minn.
ON CAMPUS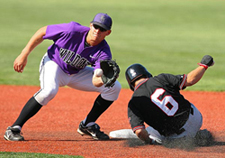 Monday, Aug. 2, marks the beginning of camp for high school students interested in improving their skills in America's favorite pastime.
High school seniors and junior college players can take a swing at what a professional baseball tryout is like -- and maybe even score a spot on the K-State team roster -- during the Brad Hill Select Camps. The first session, marked High School Select Camp I, begins Monday at Frank Myers Field, and will run through Tuesday. High School Select Camp II will run Aug. 9-10.
The Brad Hill Select Camps provide players who want to continue their playing careers at the next level an opportunity to be evaluated in a professional scouting format and in live games by the K-State coaching staff and other college coaches.
Thirty percent of the current K-State baseball roster is made up of former campers from events similar to this camp.
PICTURE PERFECT

For creative professional images contact university photographer David Mayes at 785-532-6304 or photo@k-state.edu
For a gallery of Mayes' photos, go to: http://ksuphoto.zenfolio.com
OPPORTUNITIES
CLASSIFIED
• A recording of classified job opportunities is available 24 hours a day on the Employment Information Line, 785-532-6271.
• A list of employment opportunities is posted at www.k-state.edu/hr/
• For additional information, call 785-532-6277 or come to the Division of Human Resources in 103 Edwards Hall. Applications are accepted 8 a.m. - 5 p.m. weekdays.
UNCLASSIFIED
• A complete listing of vacancies can be seen at www.k-state.edu/affact/
• For additional information, call the office of affirmative action at 785-532-6220 or come by 214 Anderson Hall.
For previous issues click here
The next issue is Aug. 11.
Submit items by noon Aug. 5.
K-STATE'S JOHNSON CENTER FOR BASIC CANCER RESEARCH CONTINUES TO GROW, EXPAND RESEARCH EFFORTS
Named in honor of its founder the late Terry C. Johnson, the Johnson Center for Basic Cancer Research at K-State has been working to fight cancer for 30 years. Johnson was a former university distinguished professor and director of K-State's Division of Biology.
In 1980, through Johnson's efforts, the center was designated by the Kansas Legislature. Now, 30 years later, the center serves as a hub to 70 faculty researchers from five colleges and 12 different departments throughout campus.
PLAUDITS
DANIEL MARCUS TO SERVE ON NATIONAL BIOMEDICAL RESEARCH COMMITTEE
A K-State professor has been elected to serve on a national committee that seeks to elevate biomedical research resources in Kansas and other states.
Daniel C. Marcus, university distinguished professor of anatomy and physiology, will serve a four-year term on the National Committee for the National Association of IDeA Principal Investigators. Read more
COLLEGE OF AGRICULTURE PROFESSORS RECEIVE NATIONAL HONORS
Eight faculty within the College of Agriculture were recently recognized for contributions to their field. Read more
AMERICAN ANTHROPOLOGICAL ASSOCIATION NAMES HARALD PRINS TOP UNDERGRADUATE TEACHER IN ANTHROPOLOGY
Harald E.L. Prins, a university distinguished professor of anthropology who has been recognized both at the university and national levels for his teaching, is now being honored by his peers as the 2010 recipient of the American Anthropological Association/Oxford University Press Award for Excellence in Undergraduate Teaching of Anthropology. Read more
OH, BY THE WAY
KIRK SCHULZ GETTING INPUT FROM K-STATE CONSTITUENTS ON REACHING LOFTY GOALS BY 2025
The more input the better. That's the idea behind K-State President Kirk Schulz's efforts to encourage participation in deciding how to reach major new goals by 2025.
Schulz recently launched a new website, http://www.k-state.edu/2025/, with a video, a timeline and dialog boxes asking for input. It's all designed to develop an effective visionary plan for moving K-State forward. Read more
PASSWORD CHANGE TIMEFRAME BEGINS AUG. 1
Aug. 1-Sept. 8 is the timeframe for all staff and faculty to change their K-State eID passwords for the fall semester. Read more
K-STATE, TECHNICAL UNIVERSITY IN TURKEY TO WORK ON COLLABORATIVE PROJECTS
Faculty from K-State and Middle East Technical University in Ankara, Turkey, will soon have opportunities to work collaboratively. K-State President Kirk Schulz has signed a memorandum of understanding with the Turkish technical university that creates opportunities for cross-cultural research between both institutions. Read more
INSTRUCTORS: ONLINE GRADE SUBMISSION HANDOUT AVAILABLE
For faculty unfamiliar with how to submit grades online, a PDF handout can be found at http://www.k-state.edu/isishelp/faculty/isisKSOLS10.pdf, which details the process of entering and approving grades in iSIS, as well as how to copy grades from K-State Online into iSIS.
The handout also includes information about the availability of grade rosters, grade submission deadlines and more.
K-STATE LIBRARIES NAMES NEW ASSISTANT DEANS, DEPARTMENT HEADS
Several faculty members from the K-State Libraries have been appointed to leadership positions as part of an internal reorganization process. Read more
RURAL GROCERY INITIATIVE EARNS K-STATE CENTER NATIONAL RECOGNITION
The K-State Center for Engagement and Community Development is being honored for its Rural Grocery Initiative with the Outstanding Community Development Program award from the International Community Development Society. Read more
K-STATE CONSTITUTION WORKSHOP IN TOPEKA FOR SOCIAL STUDIES TEACHERS RUNS THIS WEEK
A workshop on the U.S. Constitution through K-State's Division of Continuing Education began Sunday.
The workshop, entitled "Perspectives on the Constitution: A We the People Workshop for Teachers of Social Studies," is being offered in Topeka free of charge to elementary, middle and high school social studies teachers in Kansas, Nebraska and Oklahoma. Read more
K-STATE ADMINISTRATION AND FINANCE PROMOTES THREE
Bruce Shubert, vice president for administration and finance, is promoting three staff members and eliminating one unfilled position.
The promotions include Gary Leitnaker, to associate vice president for human resources and parking services; Cindy Bontrager, to assistant vice president for budget planning; and Fran Willbrant, to assistant vice president for financial services. Read more
INFORMATION REGARDING DEPARTMENTS USING THE LED MESSAGE BOARD
Questions have been asked by faculty and staff within various departments about the availability and posting procedures for the LED message board south of the parking garage. In short, departments can use the message board for a fee. Read more
Interim editor: Greg Tammen
Coordinator: Julie Fosberg
Phone: 785-532-2535
Fax: 785-532-6418
E-mail: media@k-state.edu