SURPASSING EXPECTATIONS: K-STATE PROUD CAMPAIGN EXCEEDS GOAL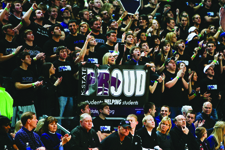 It's a success that lives up to its name: K-State Proud.
K-Staters contributed a total of $117,618 to the fifth annual K-State Proud campaign, Feb. 14-18.
K-State Proud is a nationally recognized, student-led campaign that raises money for student opportunity awards. The campaign goal of $100,000 was surpassed through a variety of campaign activities developed by K-State Proud student leaders.
NOTEWORTHY

Dana C. Krueger, instructor of management, and colleagues published "Application of Generalized Linear Models to Predict Semiconductor Yield Using Defect Metrology Data," IEEE Transactions on Semiconductor Manufacturing, Vol. 24, No. 1.
ON CAMPUS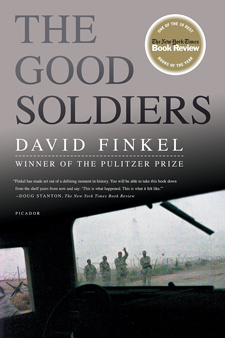 PULITZER PRIZE WINNER DAVID FINKEL TO DISCUSS 'THE GOOD SOLDIERS' AT MARCH 10 LECTURE
David Finkel is bringing his insights from war-ravaged Baghdad to Manhattan.
Finkel, a Pulitzer Prize-winning Washington Post reporter, is coming to K-State Thursday, March 10, to discuss his chronicle of modern combat, "The Good Soldiers." The presentation, which will take place in Forum Hall in the K-State Student Union, is free and open to the public.
"The Good Soldiers" is a New York Times bestseller and winner of the J. Anthony Lukas Book Prize and New York Public Library Helen Bernstein Award for Excellence in Journalism. It is the story of the soldiers of the Army's 2nd Battalion, 16th Infantry of Fort Riley, known as the Rangers, during their historic tour of duty in Iraq from 2007-2008 at the peak of the surge.
Col. Ralph Kauzlarich, the former commander of the battalion and main character of the book, will be a special guest and will also present at the forum.
The event will start with a book sale and signing at 3:30 p.m., followed at 4 p.m. by Finkel and Kauzlarich's presentation. A Q-and-A session will follow.
This is the second book lecture on the surge campaign in Iraq presented by the K-State military professional development series and hosted by the K-State Libraries and others.
PICTURE PERFECT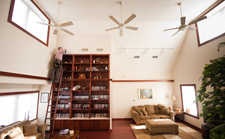 For creative professional images, contact university photographer David Mayes at 785-532-6304 or photo@k-state.edu
For a gallery of Mayes' photos, go to: http://ksuphoto.zenfolio.com
OPPORTUNITIES
CLASSIFIED
• A recording of classified job opportunities is available 24 hours a day on the Employment Information Line, 785-532-6271.
• A list of employment opportunities is posted at http://www.k-state.edu/hr/
• For additional information, call 785-532-6277 or come to the Division of Human Resources in 103 Edwards Hall. Applications are accepted 8 a.m. - 5 p.m. weekdays.
UNCLASSIFIED
• A complete listing of vacancies can be seen at http://www.k-state.edu/affact/
• For additional information, call the office of affirmative action at 785-532-6220 or come by 214 Anderson Hall.
For previous issues click here
INTRODUCING … K-STATE TODAY
Today's issue of K-Statement will be the last.
The Division of Communications and Marketing is introducing K-State Today, a daily e-newsletter that will have all the functionality of K-Statement and more.
K-State Today will be e-mailed directly to faculty and staff weekdays. You can find the Web version of it at http://www.k-state.edu/today/.
To submit your plaudits and noteworthy happenings, simply fill out the form at http://www.k-state.edu/today/submit/. You can even add photos.
Not all submissions will be used, but K-State Today will focus on news most relevant to campus.
If you have any questions about K-State Today, contact the Division of Communications and Marketing at 785-532-2535 or media@k-state.edu.
RESEARCH
FORMER PROFESSOR RETURNS TO LEAD KEY USDA DISEASE RESEARCH UNIT WITH TIES TO NBAF
Several unpacked boxes sit in the corners of D. Scott McVey's office. But McVey is hard at work. He's orchestrating a series of high-profile animal virus research projects that extend from Manhattan, Kan., to New York and around the world.
McVey, a former K-State faculty member, came back to Manhattan to join the U.S. Department of Agriculture's Arthropod-Borne Animal Disease Research Unit, or ABADRU, as supervisory veterinary medical officer. His duties include research and overseeing many of the unit's administrative functions, including budgetary matters, meeting USDA objectives and hiring new staff, because the unit is currently operating at half capacity. Read more
PLAUDITS
CHEMIST'S WORK BRINGS MORE NATIONAL RECOGNITION AS PROMISING EARLY-CAREER SCIENTIST

A K-State chemistry professor has been selected as a Sloan Research Fellow for her success as a promising young scholar, particularly in the research areas of sustainable energy and gold nanoparticles.
Christine Aikens, assistant professor of chemistry, has received the two-year $50,000 award, which the Alfred P. Sloan Foundation gives annually to early-career scientists and scholars as a way to recognize their achievements and potential to contribute to their field. Read more
OH, BY THE WAY
WIMBA MAINTENANCE AND DOWNTIME SCHEDULED FOR MARCH 4
Wimba will be undergoing maintenance 8 a.m. to 4 p.m. Friday, March 4.
During the maintenance period, Wimba (and all archived classrooms) will be unavailable for approximately two or three hours. Check your K-State online organizer on Friday for the approximate start and end times of Wimba's unavailability. Read more
FACULTY SENATE FEBRUARY HIGHLIGHTS
The highlights from the Feb. 15 Faculty Senate meeting are listed below. Meeting minutes will be available on the website as they are approved by the Faculty Senate. Minutes for the Dec. 14, 2010, meeting have been posted at http://www.k-state.edu/facsen/facsenate/2011/minutes.htm. Read more
NEW PRESIDENT'S AWARD OF EXCELLENCE FOR UNCLASSIFIED PROFESSIONALS
A new award program for unclassified professionals, which has been approved by President Schulz, has been announced. The purpose of these awards is to foster excellence in the workplace by rewarding and recognizing unclassified professional staff who achieve excellence and/or make exemplary contributions to the mission and values of K-State through service as a team player, exceptional productivity, creativity or innovation, distinguished accomplishment, and/or leadership. Read more
NOTED WRITER, CRITIC TERRY CASTLE TO GIVE INSIDE LOOK ON OUTSIDER ART
Art produced by individuals not considered part of the mainstream world is the focus of this year's Phi Beta Kappa Visiting Scholar Program Lecture by noted writer and critic Terry Castle.
Castle will present "'Outsider Art' and the Problem of Aesthetic Value" at 3:30 p.m. Friday, March 4, in the Little Theater at the K-State Student Union. The lecture is free and open to the public. Read more
A NIGHT AT THE OPERA: 'GIANNI SCHICCHI' AND 'TROUBLE IN TAHITI' COMING TO MCCAIN MARCH 10-12
Family woes are the focus of two one-act operas being presented by Kansas State University's Opera Theater. "Gianni Schicchi" and "Trouble in Tahiti" will be staged at 7:30 p.m. March 10-12 in McCain Auditorium.
Written by Giacomo Puccini, chaos ensues in "Gianni Schicchi" after the relatives of a wealthy man search to collect their earnings from his will. The family members then call upon the less-than-scrupulous Schicchi to secure their inheritance. Puccini composed some of the most frequently performed operas in the world, including the masterpieces "La Boheme" and "Madama Butterfly." Read more
MUSICAL MARCH: K-STATE MUSIC DEPARTMENT PUTS MONTH IN TUNE
March comes in with an organ recital and out with a guest pianist. In between expect a lot of singing, a tubaphonium festival, an afternoon with bassoons and more as K-State's department of music offers a month full of music.
All performances are free and open to the public. Read more
HARRY POTTER AND LITERACY ROCK AT FOURTH ANNUAL HALLOWS AND HORCRUXES BALL
Wizards, muggles and those who enjoy music and reading can make an evening of it at the Hallows and Horcruxes Ball 4: A Wizard Rock Concert for Literacy at Kansas State University.
Inspired by J.K. Rowling's Harry Potter series, the wizard-themed ball is from 7-11:30 p.m. Saturday, March 5, in the K-State Alumni Center. Doors will open at 6 p.m. Read more
GAELIC STORM BLOWS INTO MCCAIN AUDITORIUM MARCH 14
Just in time to celebrate St. Patrick's Day, the Celtic band Gaelic Storm will perform at K-State as part of the McCain Performance Series.
The show will be at 7:30 p.m. Monday, March 14, in McCain Auditorium. Read more
MARK YOUR CALENDAR: FIVE HOMES CHOSEN FOR DEC. 3 TOUR TO BENEFIT MCCAIN PERFORMANCE SERIES
The holiday decorations may have just been put away, but it's not too soon for several Manhattan homeowners to be thinking about tinsel and tree trimmings again.
The Friends of McCain Auditorium selected five area homes to be part of the McCain Holiday Home Tour on Dec. 3. The event is a biannual fundraiser for McCain Auditorium and will feature homes decorated for the holiday season. Money raised from the tour will support the McCain Performance Series and its education and outreach activities. Read more
Editor: Emily Vietti
Coordinator: Julie Fosberg
Phone: 785-532-2535
Fax: 785-532-7355
E-mail: media@k-state.edu