ROCK GROUP KANSAS, K-STATE ORCHESTRA TO HELP CELEBRATE STATE'S 150TH WITH MCCAIN PERFORMANCE
Kansas State University's McCain Performance Series is offering a special way to celebrate 150 years of Kansas statehood: a concert by the rock band Kansas at 7:30 p.m. Friday, Jan. 28, in McCain Auditorium.
Fusing British progressive rock with an American heartland sound, Kansas will play many of its biggest hits, including "Carry On Wayward Son," "Dust in the Wind" and more. Accompanying the band will be the 80-member K-State Orchestra.
NOTEWORTHY

Geraldine Craig, associate professor of art, published "Patterns of Change: Transitions in Hmong Textile Language," Hmong Studies Journal, Vol. 11.
ON CAMPUS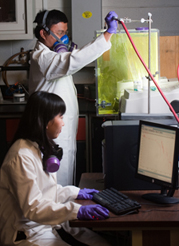 GRADUATE STUDENTS PRESENTING RESEARCH ON TOPICS IMPORTANT TO KANSAS
The Graduate Student Council is having a research poster session to highlight graduate students' scholarly work and how it can benefit the state.
Research and the State is the first of two research forums being sponsored by the Graduate Student Council and Graduate School. The event will begin at 9 a.m. on Feb. 2, in the K-State Student Union K and S Ballrooms.
During the event, 28 K-State graduate students will present posters that feature their research projects and how they relate to important topics in Kansas, such as bioscience, agriculture, cost and quality of education, roads and transportation, energy and alternative energy sources, and military families and relations.
K-State faculty and administrators will judge the presentations based on a two-round process. Ten will be chosen to represent K-State at the Capitol Graduate Research Summit, Thursday, Feb. 17, in Topeka.
The summit is an annual event that features Kansas-related research conducted by graduate students at K-State, the University of Kansas, the University of Kansas Medical Center and Wichita State University.
For more information regarding both forums, go to http://www.k-state.edu/grad/
gspeopleorg/gsc/travelresearch.htm.
PICTURE PERFECT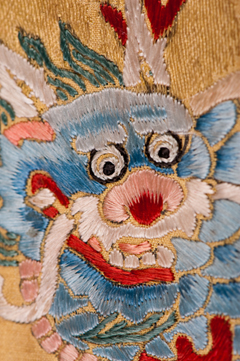 For creative professional images, contact university photographer David Mayes at 785-532-6304 or photo@k-state.edu
For a gallery of Mayes' photos, go to: http://ksuphoto.zenfolio.com
OPPORTUNITIES
CLASSIFIED
• A recording of classified job opportunities is available 24 hours a day on the Employment Information Line, 785-532-6271.
• A list of employment opportunities is posted at http://www.k-state.edu/hr/
• For additional information, call 785-532-6277 or come to the Division of Human Resources in 103 Edwards Hall. Applications are accepted 8 a.m. - 5 p.m. weekdays.
UNCLASSIFIED
• A complete listing of vacancies can be seen at http://www.k-state.edu/affact/
• For additional information, call the office of affirmative action at 785-532-6220 or come by 214 Anderson Hall.
For previous issues click here
The next issue is Feb 2.
Submit items by noon Jan. 28.
LAYER BY LAYER, SAFETY FEATURES PARAMOUNT AT K-STATE'S BIOSECURITY RESEARCH INSTITUTE
Biosafety officer Julie Johnson likes to think of safety at Kansas State University's Biosecurity Research Institute as an onion: it has layers of precautions that keep the facility safe and secure. From lab construction and staff training to safety procedures, these layers of security exist to protect staff, the public and the environment.
RESEARCH
PREDICTING POLITICAL HOTSPOTS: PROFESSORS' GLOBAL MODEL FORECASTS CIVIL UNREST AGAINST GOVERNMENTS
The forecast for predicting the next political hotspots could be much more accurate because of a model developed by two Kansas State University professors and a colleague in New York.
The model, named the Predictive Societal Indicators of Radicalism Model of Domestic Political Violence Forecast, is currently five for five in predicting which countries will likely experience an escalation in domestic political violence against their governments within the next five years.
PLAUDITS
DIVERSITY EFFORTS EARN WILEY COMMERCE BANK PRESIDENTIAL AWARD

Zelia Wiley, assistant dean for diversity in the College of Agriculture, received the Commerce Bank Presidential Faculty and Staff Award for Distinguished Service to Historically Underrepresented Students. The honor comes with a plaque and $2,500.
She was honored at a reception on Jan. 25.
Increasing multicultural enrollment was one of Wiley's top assignments when she was hired by the College of Agriculture in 2003 to lead its new diversity programs office. Read more
OH, BY THE WAY
eID PASSWORD DEADLINE APPROACHING
From the beginning of the year through Wednesday, Feb. 9, all K-Staters need to change the passwords on their K-State eIDs for the spring semester. This mandatory password change, which occurs each fall and spring, applies to both individual and group eIDs.
An e-mail reminder will be sent to K-Staters with unchanged passwords two weeks prior to the password deadline. Note that K-State will never ask for your eID password via e-mail. Any message that asks for your password is a phishing scam and should be deleted immediately. Read more
PANELISTS, ADDITIONAL ARRANGEMENTS ANNOUNCED FOR SOTOMAYOR LANDON FORUM
Two federal judges and the student body president will serve as panelists for the upcoming Landon Forum with Supreme Court Associate Justice Sonia Sotomayor.
K-State has also announced some additional security and overflow arrangements for the forum, which will be at 3 p.m. Thursday, Jan. 27, in Forum Hall at the K-State Student Union. Doors will open at 2:30 p.m. Read more
SUMMER AT THE BEACH: NEW PROGRAM HELPS KIDS EXPLORE ART CAREERS
The Marianna Kistler Beach Museum of Art has drawn up a summer of fun for budding young artists and curators.
The museum is now taking names of youths who want to participate in Young Curators and Young Artists. It is a new two-part summer program offered by the museum with a $1,000 Youth Impacting the Community grant from the Manhattan Community Foundation. The program provides real-life museum and art career experiences for children and teens. Read more
INTERIOR ARCHITECTURE AND PRODUCT DESIGN PROGRAM EARNS TWICE THE EXCELLENCE
K-State's master of interior architecture and product design degree program is doubling up on excellence.
The master's program, already accredited by the Council for Interior Design Accreditation, has earned first-time accreditation from the National Association of Schools of Art and Design. The accreditation is good through 2015. Read more
CHAPMAN CENTER FOR RURAL STUDIES GRAND OPENING
The Chapman Center for Rural Studies is hosting its grand opening at 4 p.m. Friday, Jan. 28, in the west end of the main floor of Leasure Hall, rooms 109-112. Friends of the center are invited to join in the celebration.
The opening will feature tours, some brief remarks by Mark Chapman and center staff, and the unveiling of original art pieces commemorating Broughton, Kan., all accompanied by refreshments. Read more
Editor: Emily Vietti
Coordinator: Julie Fosberg
Phone: 785-532-2535
Fax: 785-532-7355
E-mail: media@k-state.edu