K-STATE MUSIC DEPARTMENT OFFERS NOVEMBER EVENTS
The Kansas State University music department is offering a variety of performances and concerts in November.
Unless otherwise noted, all events are free and open to the public.
NOTEWORTHY

Peter Magyar, professor/head of architecture, had his submission for the international competition "House for Johann Sebastian Bach" published on ICARCH Gallery (http://www.icarch.net/, click on Competitions, then Recent Competitions).
ON CAMPUS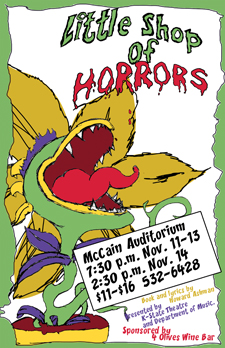 K-STATE THEATER PERFORMS 'LITTLE SHOP OF HORRORS'
One of the longest-running off-Broadway shows of all time, this affectionate spoof of 1950s sci-fi movies has become a household name.
Seymour, an employee in a failing Skid Row florist shop, makes a last ditch attempt to keep the business afloat by nurturing a mysterious plant he purchased from an old Chinese man during an eclipse of the moon. The plant brings success to both the shop and Seymour, promising fame and fortune in exchange for feeding its unquenchable bloodthirsty appetite.
The show opens in McCain Auditorium Nov. 11 and is directed by Charlotte MacFarland. The musical director is Paul Hunt; vocal director is Amy Rosine; choreographer is Saylor Burgess; and the pianist/accompanist is Amanda Arrington. Scenic design is by Kathy Voecks, assistant professor of theater, with costumes by Dana Pinkston, associate professor of theater, and lights by John Uthoff, associate professor of theater.
Evening shows Nov. 11-13 start at 7:30 p.m. The final performance is a 2:30 p.m. matinee Sunday, Nov. 14. Tickets start at $11, and can be purchased by calling the McCain box office at 785-532-6428.
PICTURE PERFECT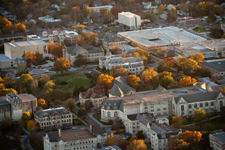 For creative professional images, contact university photographer David Mayes at 785-532-6304 or photo@k-state.edu
For a gallery of Mayes' photos, go to: http://ksuphoto.zenfolio.com
OPPORTUNITIES
CLASSIFIED
• A recording of classified job opportunities is available 24 hours a day on the Employment Information Line, 785-532-6271.
• A list of employment opportunities is posted at http://www.k-state.edu/hr/
• For additional information, call 785-532-6277 or come to the Division of Human Resources in 103 Edwards Hall. Applications are accepted 8 a.m. - 5 p.m. weekdays.
UNCLASSIFIED
• A complete listing of vacancies can be seen at http://www.k-state.edu/affact/
• For additional information, call the office of affirmative action at 785-532-6220 or come by 214 Anderson Hall.
For previous issues click here
The next issue is Nov. 17.
Submit items by noon Nov. 12.
COFFMAN COMMONS DEDICATED AND WWII MEMORIAL UNVEILED THIS WEEK


• The dedication ceremony for Kansas State University's Coffman Commons, an outdoor plaza with seating and garden areas south of Hale Library, will be 3:30 p.m. Thursday, Nov. 11.
• After eight years of planning, the design for Kansas State University's World War II Memorial has been chosen.
OH, BY THE WAY
STUDENT UNION THANKSGIVING WEEK HOURS
The Student Union copy center will be closed during the university's fall break, Thanksgiving week.
The Student Union will be providing services during the break, Saturday, Nov. 20-Sunday, Nov. 28.
Read more
FACULTY MEMBERS IN AVIONICS PROGRAM EARN INDUSTRY CERTIFICATION
Two K-State Salina instructors have earned industry certifications from the National Center for Aerospace and Transportation Technology.
Evan Beckman, instructor of aviation maintenance, earned the Aircraft Electronics Technician certificate. He already has the Foreign Object Elimination certificate.
Raylene Alexander, assistant professor of aviation maintenance, earned the Foreign Object Elimination certification and added a third endorsement in Onboard Communication and Safety Systems to her Aircraft Electronics Technician certification. She also has endorsements in Dependent Navigation Systems and Radio Communication Systems.
Read more
BUSINESS ETHICS PROFESSORS TO RELEASE NEW BOOK
Since the Enron scandal, questions have continually been raised about the business sector's ethics and its influence on future business executives.
Two business professors recruited nationally and internationally recognized experts in business ethics to address these concerns in their soon-to-be-released book, "Toward Assessing Business Ethics Education."
Diane Swanson, professor of management and von Waaden business administration professor, and Dann Fisher, associate professor of accounting, edited the book. It's the sequel to their book "Advancing Business Ethics Education" from the "Ethics in Practice" series from Information Age Publishing. Read more
YAR EBADI FIRST TO SERVE IN EDGERLEY FAMILY ENDOWED DEANSHIP
Yar Ebadi, dean of the College of Business Administration, will be the first to serve in the new Edgerley Family Endowed Deanship in the College of Business Administration.
The endowed deanship -- the first at K-State -- was established by Paul and Sandra Edgerley, Brookline, Mass. Ebadi's appointment was made by Kirk Schulz, K-State president, and April Mason, provost and senior vice president. Read more
KONZA PRAIRIE RESEARCH TO BENEFIT GRASSLANDS WORLDWIDE
Scientists at Konza Prairie Biological Station have received major funding for research on critical questions about the underlying decisions made by grazing animals and the effects on grassland dynamics.
Konza is jointly owned by Kansas State University and The Nature Conservancy and managed by the Division of Biology.
The National Science Foundation recently awarded Tony Joern, university distinguished professor in biology at K-State, and collaborators John Briggs, director of Konza Prairie Biological Station; Douglas Goodin, professor of geography; Adam Skibbe, information manager in biology; and Gene Towne, research associate in biology, $750,000 to study how and why grazing animals choose certain feeding locations, and the impact of the grazing on the tallgrass prairie ecology. Read more
PETERSON AND GLASSCOCK SELECTED TO WORK ON BROWNBACK'S TRANSITION TEAM
The newly formed transition team announced by Governor-elect Sam Brownback includes two K-Staters.
Kent Glasscock, president of the National Institute for Strategic Technology Acquisition and Commercialization, and Susan Peterson, director of governmental relations, will work on the governor's transition team. Both will retain their positions at K-State and return when the transition team responsibilities end this year.
Read more
PIANIST JON NAKAMATSU AND CLARINETIST JON MANASSE TO PRESENT CONCERT
Making a return to K-State, award-winning pianist Jon Nakamatsu will present a concert with world-renowned clarinetist Jon Manasse as part of the 2010-2011 McCain Performance Series.
The Manasse-Nakamatsu duo will perform at 7:30 p.m. Thursday, Nov. 11, in K-State's All Faiths Chapel.
The concert will feature chamber music selections from the artists' extensive repertoires and discographies.
Read more
CARNIVOROUS PLANTS MAKE APPEARANCE IN 'LITTLE SHOP OF HORRORS' AND AT CAMPUS HERBARIUM
When the production of "Little Shop of Horrors" hits McCain Auditorium Nov. 11-14, the show will feature the character Audrey II, a carnivorous plant with an insatiable appetite for people.
But Audrey II isn't the only carnivorous plant on campus, and McCain Auditorium isn't the only place to find such hungry vegetation. Read more
'I CAN SEE ME' WEBCAM RESEARCH HELPS KIDS IMPROVE READING FLUENCY
An interest in technology and a desire to help elementary school students prompted a K-State professor and two graduate students to turn to webcams to improve students' reading fluency.
Timothy Frey, assistant professor of special education, counseling and student affairs, wanted to help elementary-age students reduce the number of errors they make when reading out loud. He worked with two K-State master's graduates.
Read more
YOUNG TO SERVE AS PRESIDENT OF MID-AMERICA UNIVERSITIES INTERNATIONAL
Kristine Young, assistant provost with the office of international programs, has been elected president of Mid-America Universities International.
Young will serve a two-year term starting in January 2011. She was elected to the post at the organization's recent fall conference at K-State.
Read more
RESEARCH TEAM RECEIVES PATENT FOR METHOD OF GENETICALLY ENGINEERING SOYBEAN PLANTS TO CONTROL DESTRUCTIVE PARASITE
A recently patented invention from a K-State research team aims to control a devastating parasite that causes millions of dollars in crop damage each year.
The invention, "Compositions and Methods for Controlling Plant Parasitic Nematodes," was developed by four researchers: Harold Trick, professor of plant pathology; Timothy Todd, an instructor of plant pathology; Michael Herman, associate professor of biology; and Judith Roe, former assistant professor of biology. Read more
MONTY PYTHON'S SPAMALOT COMING TO CAMPUS
Monty Python's Spamalot is visiting the fair city of Manhattan at 7:30 p.m. Thursday, Nov. 18. McCain Auditorium is offering ticket discounts for all faculty and staff. Read more
FETE HOLDS SECOND SWAP SESSION ON WEDNESDAY, NOV. 17
The Faculty Exchange for Teaching Excellence, or FETE, announces the second swap session of the 2010-2011 series, Teaching Unconventional Cartography: Using GIS to Map the Seven Deadly Sins. The swap session will be in Room 212 of the K-State Student Union from 1:30-3 p.m. Wednesday, Nov. 17. Refreshments will be served. Come join the discussion. Read more
Editor: Emily Vietti
Coordinator: Julie Fosberg
Phone: 785-532-2535
Fax: 785-532-7355
E-mail: media@k-state.edu