$5 MILLION GIFT COMMITMENT BENEFITS TWO FACILITIES AT K-STATE
In an on-field ceremony at the K-State vs. Oklahoma State University football game last Saturday, Rand and Patti Berney, Bartlesville, Okla., announced their $5 million commitment to K-State to establish the Berney Family Capital Project Fund.
NOTEWORTHY

Elizabeth Dodd, professor of English, chaired the panel "After the Ashes: Writing from Mount St. Helens Field Residencies" and presented her essay "Isogloss," Western Literature Association Conference, Oct. 20-23, Prescott, Ariz.
ON CAMPUS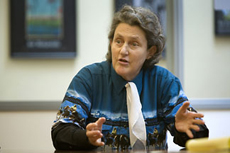 TEMPLE GRANDIN TO SPEAK AT K-STATE NOV. 9
Temple Grandin, a world-renowned animal behaviorist and high-functioning autistic, will speak at K-State at 7 p.m. Tuesday, Nov. 9, in Forum Hall at the K-State Student Union.
The lecture, which will cover Grandin's personal and professional life, is free and open to the public. It also will be streamed live on the Web at http://ome.ksu.edu/webcast/bci/
blog/index.html.
An HBO movie about Grandin recently won seven Emmy awards. Diagnosed with autism in 1950, Grandin didn't talk until she was 3 1/2 years old, and her parents were told she should be institutionalized. Instead, Grandin developed her ability to think in pictures and see situations through the perspective of animals into a successful career as a livestock-handling equipment designer. She has now designed the facilities in which half the cattle are handled in the United States.
Her first book, "Emergence: Labeled Autistic," stunned the world. Until its publication, most professionals and parents assumed that an autism diagnosis was virtually a death sentence for achievement or productivity in life.
Grandin's lecture is sponsored by Food for Thought, a grassroots group of K-State students who seek to bridge the gap between agriculture and consumers. The group includes undergraduate, graduate and veterinary students, as well as young alumni, and works under the guidance of faculty adviser Dan Thomson, the director of K-State's Beef Cattle Institute.
PICTURE PERFECT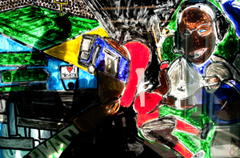 For creative professional images, contact university photographer David Mayes at 785-532-6304 or photo@k-state.edu
For a gallery of Mayes' photos, go to: http://ksuphoto.zenfolio.com
OPPORTUNITIES
CLASSIFIED
• A recording of classified job opportunities is available 24 hours a day on the Employment Information Line, 785-532-6271.
• A list of employment opportunities is posted at http://www.k-state.edu/hr/
• For additional information, call 785-532-6277 or come to the Division of Human Resources in 103 Edwards Hall. Applications are accepted 8 a.m. - 5 p.m. weekdays.
UNCLASSIFIED
• A complete listing of vacancies can be seen at http://www.k-state.edu/affact/
• For additional information, call the office of affirmative action at 785-532-6220 or come by 214 Anderson Hall.
For previous issues click here
The next issue is Nov. 10.
Submit items by noon Nov. 5.
FULBRIGHT SCHOLARSHIP AWARDED TO PHILOSOPHY PROFESSOR TO STUDY IN KYRGYZSTAN
Jon Mahoney, an associate professor of philosophy, recently was awarded a Fulbright Scholarship and will head to Bishkek, Kyrgyzstan, in January to begin six months of travel, teaching and research.
PLAUDITS
TWO FACULTY MEMBERS RECEIVE IMAN AWARDS FOR RESEARCH AND TEACHING

Two faculty members will each receive $5,000 awards in recognition of their outstanding teaching and research during a 4 p.m. ceremony Monday, Nov. 8, in the Tadtman Board Room at the K-State Alumni Center.
The annual Dr. Ron and Rae Iman Outstanding Faculty Awards are sponsored by

the K-State Alumni Association and are made possible through a gift from Dr. Ron and Rae Iman. A reception will follow the ceremony, and both events are open to the public.
Mary Beth Kirkham, professor of agronomy, will receive the 2010-11 Iman Outstanding Faculty Award for Research. The recipient of the 2010-11 Iman Outstanding Faculty Award for Teaching is Michael Wesch, associate professor of anthropology. Read more
OH, BY THE WAY
DISTINGUISHED PROFESSOR OF IMMUNOPHYSIOLOGY RECEIVES ONE OF FIELD'S HIGHEST HONORS
Despite making what are arguably some of the biggest advancements in research on the animal immune system, Frank Blecha puts his students' success before his own.
Now his former students have helped Blecha, a distinguished professor of immunophysiology, interim associate dean for research in the College of Veterinary Medicine, and head of the department of anatomy and physiology, earn national recognition for his contributions to veterinary immuniology.
On Dec. 6 in Chicago, Ill., Blecha will be formally recognized by the American Association of Veterinary Immunologists as the 2010 Distinguished Veterinary Immunologist of the Year. His former students nominated him for the honor, one of the highest in the field. Read more
PERCUSSION ENSEMBLE CONCERT TO FEATURE YOUNG MUSICIANS FROM KANSAS CITY
The semiannual Percussion Ensemble concert will be 7:30 p.m. Wednesday, Nov. 16, in McCain Auditorium.
The concert is free and open to the public. Read more
K-STATE ALUM LEADS TEAM TO NATIONAL PHYSICS APPARATUS COMPETITION WIN
A K-State alum, a physics professor and a research associate are the winners of the American Association of Physics Teachers 2010 Apparatus Competition.
Dyan McBride, a May 2009 K-State doctoral graduate in physics and now an assistant professor of physics at Mercyhurst College; Dean Zollman, university distinguished professor, William and Joan Porter professor of physics and head of the department of physics; and Sytil Murphy, research associate in physics, received the award at the 2010 summer conference of the American Association of Physics Teachers in Portland, Ore.
The trio's entry, "A Lens To Demonstrate Accommodation in the Focusing of the Human Eye," received a $1,100 prize for first place. The project was funded by the National Science Foundation and began in 2005. A majority of the project was completed by 2009, but work remains on certain aspects, Zollman said. The project was part of McBride's doctorate research, and Zollman credits McBride for the competition success. Read more
RESEARCHERS INVESTIGATE CAUSES OF POPULATION DECLINES OF PRAIRIE CHICKENS IN KANSAS
In an avian equivalent of a rowdy campus bar, male Greater Prairie Chickens gather at booming grounds every spring to display for females. But long-term monitoring programs in Kansas have indicated major declines in this once common bird of the tallgrass prairie, according to two K-State ecologists.
Investigating the population biology of prairie chickens has been the research focus of Brett Sandercock and Samantha Wisely, both associate professors in K-State's Division of Biology. Read more
K-STATE SIGNS 2+2 AGREEMENTS WITH NEOSHO COUNTY COMMUNITY COLLEGE
K-State has signed 2+2 agreements in a new partnership with Neosho County Community College in Chanute.
The agreements, signed Sept. 28, allow students at Neosho County to transfer credits to complete a K-State bachelor's degree through distance education after earning their associate degree. Read more
K-STATE NO. 1 IN GRADUATION RATE FOR FOURTH STRAIGHT YEAR
K-State can stake claim as the Big 12 leader in all-sports graduation rate for an unprecedented fourth straight year, and five Wildcat teams garnered the league's top spot in their respective sports when the NCAA released its latest graduation rate data on Wednesday.
Both graduation success rate and four-class average data was released by the NCAA with K-State claiming top honors in both categories among its Big 12 counterparts. Read more
PLANT EXPERT TO PRESENT HAGEMAN LECTURE
The effects of winter on plant growth will be the focus of the 13th annual Richard H. and Elizabeth C. Hageman Distinguished Lectureship in Agricultural Biochemistry.
Richard Amasino, professor of biochemistry at the University of Wisconsin-Madison, will present "Memories of winter: vernalization is an environmentally induced epigenetic switch" at 4 p.m. Wednesday, Nov. 3, in 120 Ackert Hall. Amasino is a member of the National Academy of Sciences and a Howard Hughes Medical Institute research investigator. Read more
PLANT PATHOLOGY FACULTY RECEIVE NATIONAL HONORS
Two faculty members from the department of plant pathology were recognized at the recent annual American Phytopathological Society meeting in Charlotte, N.C.
Frank White, professor of plant pathology and an international authority on the molecular basis of plant disease, was named a fellow of the American Phytopathological Society in recognition of his distinguished contributions to plant pathology and society. White discovered a group of genes that are transferred from bacteria to plants during infection. He also identified bacterial genes naturally present in some plant genomes. White recently also characterized the family of bacterial virulence factors that alter the expression of plant genes and condition the plant for either susceptibility or resistance to disease. Read more
PROFESSOR STUDIES THE FEMALE VARIABLE IN GUBERNATORIAL CANDIDATES
With most of the political winners declared after Tuesday's elections, the real interest may not have been in which political party took power. Instead it may have been in another political group: women.
"There were 10 female candidates running for governor on major party tickets. This is a record-tying number," said Brianne Heidbreder, assistant professor of political science. Read more
2010 BOWMAN DESIGN FORUM ON CAMPUS NOV. 17
The 12th annual Bowman Design Forum of the College of Architecture, Planning and Design will be Wednesday, Nov. 17.
The event includes lectures by Kirsten R. Murray and Les Eerkes of Seattle-based Olson Kundig Architects.
The forum will begin at 1:30 p.m. in the Little Theater of the K-State Student Union. The lectures will follow at 5:30 p.m. in Forum Hall, also at the Union. All events are free and open to the public. Read more
MICHIGAN STATE GEOGRAPHER TO DISCUSS AMAZON AND GREEN ENERGY DEMANDS
A geographer who has traveled Amazonia extensively for his research will take part in K-State's Distinguished Lecturer Series.
Robert Walker, professor of geography at Michigan State University, will present "Biofuels and the Green Energy of Amazonia" at 2:30 p.m. Friday, Nov. 12, in the Cottonwood Room at the K-State Student Union. The lecture is free and open to the public. Sponsors include the provost's office; the department of geography and Marcelus Caldas, assistant professor of geography; Ben Champion, director of sustainability at K-State; the department of agronomy; the Division of Biology; and K-State's chapter of Gamma Theta Upsilon, the international honor society in geography. Read more
AMERICAN DIETETIC ASSOCIATION HONORING K-STATE DIETITIAN
Melissa "Missy" Schrader, a dietitian with housing and dining services and an instructor of hospitality management and dietetics, is being recognized for creating the annual on-campus Culinary Enhancement Workshop.
The American Dietetic Association Foundation will give Schrader the Mary Abbott Hess Award for Recognition of an Innovative Food and Culinary Effort at its annual food and nutrition conference Nov. 8, in Boston. Read more
ISIS UPGRADE
Over the last year K-State business offices and information technology services have been planning the upgrade to iSIS, K-State's student information system. The upgrade will provide improved features requested by faculty, staff and students, keep all components up to date for federal regulatory purposes, and update the system to the latest version.
The iSIS production system will upgraded during the fall break time frame. The system will be unavailable beginning at 5 p.m. Friday, Nov. 19, through Wednesday, Nov. 24. Read more
TOGETHER WITH THE UNITED WAY, K-STATERS CAN RAISE $200,000 TO INVEST IN THEIR COMMUNITY

Each year K-Staters from across campus partner with the United Way of Riley County to support community members in need.
This year's campaign theme is K-State Cares About our Neighbors -- or K-State CAN! The goal is to double the participation rate and raise $200,000. Read more
Editor: Emily Vietti
Coordinator: Julie Fosberg
Phone: 785-532-2535
Fax: 785-532-7355
E-mail: media@k-state.edu