2010 SUSTAINABILITY CONFERENCE FOCUSED ON HIGHER EDUCATION AND SUSTAINABILITY

The 2010 edition of K-State's award-winning Sustainability Conference will focus on ways higher education can share ideas on sustainability and build new sustainability networks across the state.
NOTEWORTHY

Gary Brase, psychology, presented "Parsing the Cognitive Stream: Partitioning of Events as a Factor in Judgments Under Uncertainty," 30th annual conference of the Society for Judgment and Decision Making, Nov. 21-23, Boston, Mass.
On Campus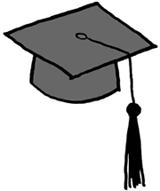 DEC. 11-12
Fall 2009 Commencement, Dec 11-12
Go to http://www.k-state.edu/
media/newsreleases/dec09/
maingrad120209.html
for ceremony details.
For previous issues click here
The next issue is Dec. 16
Submit items by noon Dec. 10
FALL GRADUATION CEREMONIES AT K-STATE DEC. 11 AND 12
K-State's fall commencement ceremonies will be Friday, Dec. 11, and Saturday, Dec. 12, on the K-State campuses in Manhattan and Salina. More than 1,250 students are candidates for graduation.
PLAUDITS
HARRINGTON AN OFFICIAL OBSERVER AT THE U.N. CLIMATE CONFERENCE

John Harrington Jr., K-State professor of geography, is serving as an official observer at the U.N. Conference on Global Climate Change, Dec. 7-18, in Copenhagen, Denmark.
"Given the seriousness of global change, including climate change, land cover change, population growth and water source availability, the more people who are aware, the higher the chance they'll sit up and take notice," Harrington said.
Read more
K-STATE'S MORTAR BOARD CHAPTER SELECTS 2009 OUTSTANDING FACULTY MEMBERS
K-State's chapter of Mortar Board has selected its 2009 outstanding faculty, advisers and mentors.
Each fall, Mortar Board members nominate outstanding faculty and staff from their respective colleges, student life groups and other departments throughout campus. As a group, members then select their honorees based on their exemplary contributions to students at K-State, and their ability to demonstrate the three ideals of Mortar Board: leadership, scholarship and service.
Read more
OH, BY THE WAY
YEAR END PAYROLL REMINDERS FOR K-STATE EMPLOYEES
Please check your address in HRIS employee self-service to make sure it is up to date so that you will receive your 2009 W-2, Wage and Tax Statement in a timely manner. This may be done through employee self-service at https://www.as.ksu.edu/psp/HRIS
Any address changes must be entered by Dec. 15.
Read more
KINESIOLOGY PROFESSOR RECOMMENDS HEALTHY HABITS FOR THE HOLIDAYS
The holiday season can add many social and cultural challenges to a one's diet and exercise regimen, according to K-State's Melissa Bopp, assistant professor of kinesiology.
Bopp describes the holiday season as a double-edged sword because of the calorie-dense foods often served at social gatherings and the lack of time for exercise due to busy schedules and lack of access to exercise facilities when traveling.
Read more
K-STATE INFOCOMMONS TO BE UPDATED OVER WINTER BREAK
During winter break, the Information Technology Assistance Center will be replacing all of the PCs located on the first, second and third floors of the K-State InfoCommons in Hale Library. The new Dell machines have 20-inch wide-screen monitors as well as memory and processor upgrades.
A test machine will be placed near the IT Help Desk in the near future so users can come by and check it out.
Read more
CLASSIFIED SENATE TAKING NOMINATIONS FOR THE INAUGURAL CLASSIFIED AWARD OF EXCELLENCE
K-State's Classified Senate is now taking nominations for the new Classified Award of Excellence.
The award was established to recognize exemplary performance and contributions of classified staff members who consistently excel in their positions and demonstrate integrity and a strong commitment to the mission and values of K-State.
Read more
OPPORTUNITIES
CLASSIFIED
• A recording of classified job opportunities is available 24 hours a day on the Employment Information Line, 785-532-6271.
• A list of employment opportunities is posted at www.k-state.edu/hr/
• For additional information, call 785-532-6277 or come to the Division of Human Resources in 103 Edwards Hall. Applications are accepted 8 a.m. - 5 p.m. weekdays.
UNCLASSIFIED
• A complete listing of vacancies can be seen at www.k-state.edu/affact/
• For additional information, call the office of affirmative action at 785-532-6220 or come by 214 Anderson Hall.
Editor: Katie Mayes
Coordinator: Julie Fosberg
Phone: 785-532-6415
Fax: 785-532-6418
E-mail: media@k-state.edu