KONZA PRAIRIE BIOLOGICAL STATION A FINALIST IN 'EIGHT WONDERS OF KANSAS GEOGRAPHY' COMPETITION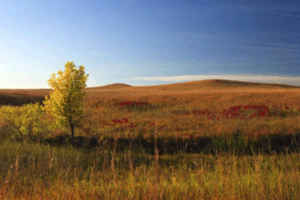 K-State's Konza Prairie Biological Station is one of 24 finalists in the Eight Wonders of Kansas Geography competition, sponsored by the Kansas Sampler Foundation.
NOTEWORTHY

Mary T. Copple, modern languages, presented "Following the Path: How Temporal Reference Reflects Semantic Extension," Current Evolutions of Romance Tenses Workshop, Dec. 18-19, 2009, Aston University, Birmingham, England.
On Campus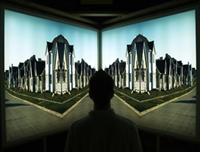 Through JAN. 29
"In and Out of Place" by Dylan Beck
8 a.m. to 5 p.m., weekdays, through Jan. 29, Seaton Hall's Chang Gallery. Beck, an assistant professor of art at K-State, will exhibit his sculpture, which explores the phenomenon of suburban sprawl and the built environment in the American landscape.
For previous issues click here
The next issue is Jan. 27
Submit items by noon Jan. 21
2010 SUSTAINABILITY CONFERENCE TO FOCUS ON HOW HIGHER EDUCATION CAN ADVANCE EFFORTS IN KANSAS
Experts will talk about how institutions of higher education in Kansas can partner to build a new sustainability network for the state at the 2010 Sustainability Conference at K-State Jan. 29-30.
PLAUDITS
MATH PROFESSOR WINS ESSAY CONTEST
K-State mathematics professor Louis Crane won first place in an essay contest sponsored by the Foundational Questions Institute for his proposal to make small artificial black holes and use them to make power plants and starships.
In the essay "Stardrives and Spinoza," Crane argues that because it is widely believed that every black hole produces a new baby universe on the other side of its singularity, this technology will involve future humanity in the creation process of universes.
Read more
PUJOL TO RECEIVE A 2010 GOVERNOR'S ARTS AWARD

K-State art professor Elliott Pujol will receive a 2010 Governor's Arts Award for his work as a master metalsmith and Kansas artist.
The Governor's Arts Awards are given annually to recognize distinguished Kansas artists, patrons and arts educators. Pujol is one of six people or organizations receiving the 2010 Governor's Arts Award.
Read more
DYER NAMED SENIOR VICE PROVOST

Ruth Dyer has been appointed senior vice provost at K-State. She served as K-State's interim provost and vice president for academic affairs from June 15, 2009, when Duane Nellis left K-State to become president at the University of Idaho, until the appointment of April Mason as K-State's provost and senior vice president in December.
Read more

PICTURE PERFECT
Steam from a vent near Ward Hall, driven by a recent north wind, created horizontal ice on a nearby tree.
For creative professional images contact university photographer David Mayes at 785-532-6304 or photo@k-state.edu
For a gallery of Mayes' photos, go to: http://ksuphoto.zenfolio.com
OH, BY THE WAY
K-STATE MESSAGE BOARD TO PROMOTE VISIBILITY, AESTHETICS AND CAMPUS SAFETY
K-State is proceeding with plans for a message board that will display static information about university-related activities and services.
The LED sign, to be placed south of the new K-State parking garage, also will be part of campus safety efforts. In the event of an emergency, it will be used to provide essential information to the campus and community.
Read more
K-STATE'S PARKING GARAGE FULLY OPEN
K-State's parking garage was fully open in time for the first day of spring semester classes Jan. 14.
"We have plenty of room for students, faculty, staff and visitors in a convenient, covered parking garage with easy access to our K-State Student Union," said Gary Leitnaker, assistant vice president for human resources.
Read more
K-STATE'S POWERCAT FINANCIAL COUNSELING TO CELEBRATE GRAND OPENING
K-State's Powercat Financial Counseling will have its official grand opening at noon Wednesday, Jan. 27, in the courtyard of the K-State Student Union.
Powercat Financial Counseling opened in fall 2009. The center's mission is to improve the financial literacy of K-State students and provide professional counseling experience for students studying personal finance at K-State.
Read more
OPPORTUNITIES
CLASSIFIED
• A recording of classified job opportunities is available 24 hours a day on the Employment Information Line, 785-532-6271.
• A list of employment opportunities is posted at www.k-state.edu/hr/
• For additional information, call 785-532-6277 or come to the Division of Human Resources in 103 Edwards Hall. Applications are accepted 8 a.m. - 5 p.m. weekdays.
UNCLASSIFIED
• A complete listing of vacancies can be seen at www.k-state.edu/affact/
• For additional information, call the office of affirmative action at 785-532-6220 or come by 214 Anderson Hall.
Editor: Katie Mayes
Coordinator: Julie Fosberg
Phone: 785-532-6415
Fax: 785-532-6418
E-mail: media@k-state.edu