TEST OF K-STATE'S EMERGENCY NOTIFICATION SYSTEM A SUCCESS

A recent test of K-State Alerts -- the university's emergency notification system -- was highly successful, with at least 98 percent of subscribers receiving text, phone and e-mail messages.
NOTEWORTHY

Patricia Ackerman, K-State at Salina, presented the workshop "Expectations in the Writing Center," Midwest Writing Center Association Conference, Oct. 21-25, Rapid City, S.D.
On Campus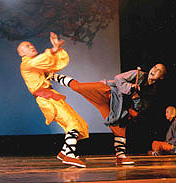 NOV. 19
McCain Performance Series: Shaolin Warriors
7:30 p.m., McCain Auditorium. This theatrical production includes the skill, stunning movement and spectacular imagery of Kung Fu. The group consists of disciples of the Shaolin schools. Call 532-6428 for ticket information.
For previous issues click here
The next issue is Nov. 18
Submit items by noon Nov. 12
NEW STUDENT LIFE CENTER OPENS ON K-STATE'S SALINA CAMPUS
After 13 years in the making, the ribbons were cut Thursday, Nov. 5, to celebrate the opening of the Student Life Center at Kansas State University at Salina.
PLAUDITS
K-STATE PROFESSORS OF AGRONOMY, PHYSICS RECEIVE COMMERCE BANK DISTINGUISHED GRADUATE FACULTY AWARDS

An award-winning agronomist and a theoretical physicist will receive K-State's 2009 Commerce Bank Distinguished Graduate Faculty Award.
Charles Rice, university distinguished professor of agronomy, and Amit

Chakrabarti, professor of physics, will be recognized at the K-State Graduate School commencement ceremony at 1 p.m. Friday, Dec. 11, in Bramlage Coliseum. The awards, which come with a $2,500 honorarium, are supported by the William T. Kemper Foundation and the Commerce Bancshares Foundation. They are coordinated through the Kansas State University Foundation.
Read more
K-STATE AT SALINA'S DREW SMITH EARNS MASTER CERTIFIED FLIGHT INSTRUCTOR DESIGNATION

Andrew "Drew" Smith, assistant professor of aviation and the aviation maintenance training program lead at Kansas State University at Salina, has earned Master Certified Flight Instructor designation for the first time.
Smith is the sixth instructor in K-State at Salina's aviation program to earn the distinction. He also is one of only 19 Master Certified Flight Instructors in Kansas.
Read more
K-STATE'S YASMIN PATELL RECOGNIZED FOR HER SERVICE TO THE CHEMISTRY PROFESSION
Yasmin Patell, assistant teaching scholar in chemistry at K-State, has received the Midwest Region of the American Chemical Society's E. Ann Nalley Midwest Regional Award for Volunteer Service in recognition of her exemplary service to the chemistry profession.
Read more
PICTURE PERFECT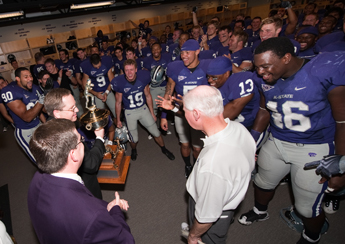 The K-State football team received the Governor's trophy after winning the "Sunflower Showdown" against the University of Kansas 17-10. The game was Saturday, Nov. 7, at Bill Snyder Family Stadium.
For creative professional images contact university photographer David Mayes at 785-532-6304 or photo@k-state.edu
For a gallery of Mayes' photos, go to: http://ksuphoto.zenfolio.com
OH, BY THE WAY
BUDGET FORUM NOV. 13
An open forum will be held at 3 p.m. Friday, Nov. 13, in K-State Student Union's Forum Hall.
This will be the first of two open forums taking place in November. The second will be held at the Salina Campus at 3:30 p.m. Monday, Nov. 23. The student union's Big 12 room will be reserved that afternoon as well for those on the Manhattan campus who wish to view the Salina forum.
Read more
HIGH-QUALITY STOCK PHOTOGRAPHY AVAILABLE TO K-STATERS
The office of media relations has a stock photography Web site that offers K-State units high-quality electronic images at a low price. Photos may be viewed at http://www.k-state.edu/media/stockphotos.html
Read more
OPPORTUNITIES
CLASSIFIED
• A recording of classified job opportunities is available 24 hours a day on the Employment Information Line, 785-532-6271.
• A list of employment opportunities is posted at www.k-state.edu/hr/
• For additional information, call 785-532-6277 or come to the Division of Human Resources in 103 Edwards Hall. Applications are accepted 8 a.m. - 5 p.m. weekdays.
UNCLASSIFIED
• A complete listing of vacancies can be seen at www.k-state.edu/affact/
• For additional information, call the office of affirmative action at 785-532-6220 or come by 214 Anderson Hall.
Editor: Katie Mayes
Coordinator: Julie Fosberg
Phone: 785-532-6415
Fax: 785-532-6418
E-mail: media@k-state.edu