NEW STUDENT LIFE CENTER OPENS ON K-STATE'S SALINA CAMPUS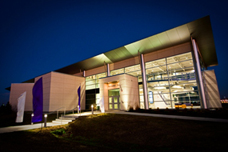 After 13 years in the making, the ribbons were cut Thursday, Nov. 5, to celebrate the opening of the Student Life Center at Kansas State University at Salina.
"This is a great day for K-State at Salina students past, present and future," said Dennis Kuhlman, dean of K-State at Salina. "Our alumni have seen the fruition of a dream and our current students have a state-of-the-art facility that focuses entirely on the student experience. The Student Life Center will be a big selling point in recruiting new students for years to come."
Kuhlman first identified the need for the center when he interviewed for the job of dean in 1996.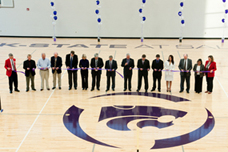 The 33,000 square foot building is home to the campus's recreational services and student life divisions, and houses a basketball gymnasium, a second-level running track, a racquetball court, a cardiovascular area, free weights emblazoned with K-State at Salina's logo, an aerobic/fitness area and exercise equipment.
The center is also home to the Cessna Lounge, a student lounge area complete with big screen televisions, video game consoles, a pool table, ping-pong table and air hockey table. A computer station also is located in the center's lobby.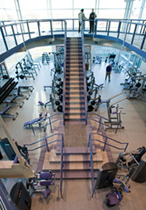 A second ribbon-cutting ceremony was held in Cessna Lounge that afternoon with representatives from Cessna Aircraft Company, the Student Life Center's largest corporate donor.
"We love K-State's aviation program," said Roger Whyte, vice president of the sales and marketing at Cessna Aircraft Company. "They have a strong program, and we have hired lots of their graduates over the years. Cessna is proud to have supported their new Student Life Center."
Several alumni traveled to campus to see the facilities, and the Salina Area Chamber of Commerce hosted an After Hours event in the new building, which brought in more than 100 people from the Salina community.
Kuhlman said the finishing touches are being put on the building, which will be entirely operational very soon.
Photos: (from top to bottom) An exterior shot of K-State at Salina's new Student Life Center; Officials cut the ribbon during an official ceremony Thursday, Nov. 5; An interior shot of the recreation portion of the Student Life Center.