AdventureOUT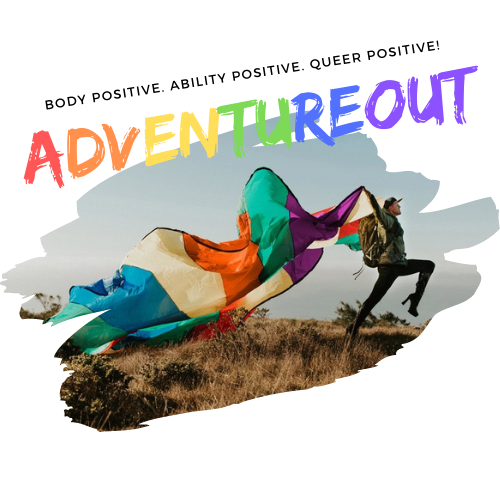 Body Positive, Ability Positive, QUEER Positive!

AdventureOUT is a new program aimed at promoting personal well-being through community building! This program's goal is to connect people though engagement with a variety of wellness activities, both virtually and in-person, and develop a stronger since of community on campus. We look forward to seeing you at a future event!
In the past we have gone on hike at the Konza Prairie, practiced Yoga, and even acted in some Drama Therapy facilitations. Have an idea for an event, let us know!
Events:
Bootober Halloween Cemetery Scavenger Hunt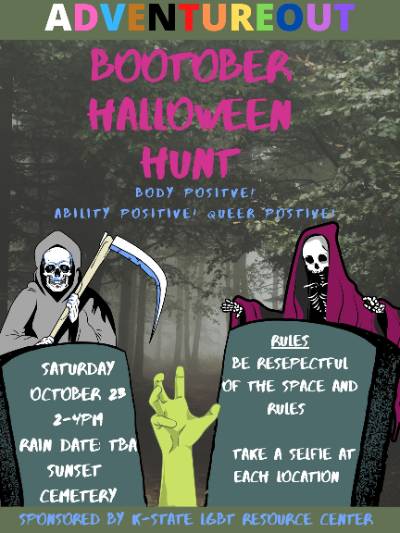 AdventureOUT is going to be hosting a scavenger hunt at Sunset Cemetery as a way to celebrate the spooky season! We will meet for carpool at the Staley School of Leadership Studies at 1:30. We will depart for the cemetery at 1:50 and will begin the hunt at 2:00. If you are interested or have any questions

please reach out to the LGBT Resource Center at lgbt@ksu.edu.
When:
Saturday , October 23rd @ 2:00 PM - 4:00 PM
Where: Sunset Cemetery (2000 Leavenworth St, Manhattan, KS 66502)
Carpool Meeting: 1:30 PM at Staely School of Leadership Studies
AdventureOUT Informed Consent
Programs facilitated through AdventureOUT will be created using theories and techniques of Drama Therapy. Drama Therapy is the intentional use of theatre and drama with the intent of personal growth, development of skills, and community building. This is not to say that all programs will be theatrical in nature but planned and facilitated from the drama therapy perspective. It is important to note that, while facilitators may be in the process of becoming therapists, they are not therapists yet and these programs should not be used in place of professional mental health services. If you are experiencing mental and emotional strain due to a stressful environment, please reach out to Counseling Services at (785)532-9627 or the K-State Family Center at (785)532-6984.
The facilitator is likely to be a Drama Therapy Master's Student, and as a requirement of our Supervision coursework, we need to practice documentation. These notes are strictly classroom material and will only be seen by the facilitator and Melissa Briggs, our instructor. All identifiable personal information will be excluded. If you do not consent to these notes being taken, inform the facilitator at the onset of the session. All questions can be directed to the LGBT Resource Center at (785) 532-5352.