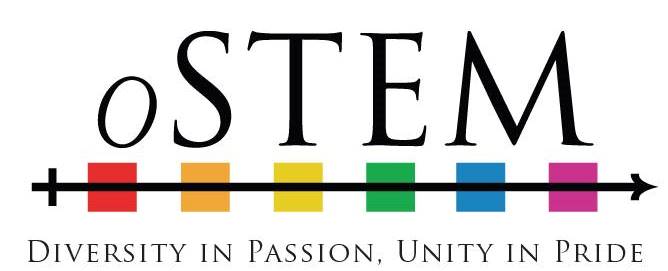 Out in Science, Technology, Engineering and Mathematics
Diversity Innovates. https://www.ostem.org/
oSTEM is a national society dedicated to educating and fostering leadership for LGBTQA communities in the STEM fields.
Kansas State University is proud to provide a nurturing, caring, and safe environment for our entire lesbian, gay, bisexual, transgender, or queer students.
Together we are a family.
Mission
The mission of oSTEM @ K-State is to:
1. Increase the representation of LGBTQ+ persons in STEM fields
2. Foster a more open and welcoming environment within STEM fields at K-State.
3. Expose the LGBTQ+ community at K-State to professional development and networking opportunities in STEM
4. Highlight contributions LGBTQ+ individuals have made in STEM disciplines.
If you'd like to be added to our listserv, please contact us!
Executive Board Members
President: Lauren Konrade (lakonrad@ksu.edu)
Vice President: Sara Blunk (sblunk@ksu.edu)
Advisor: Brandon Haddock (bhaddock@ksu.edu)
Co-Advisor: Carol Sevin (sevin@ksu.edu)
Departmental Contact: LGBT Resource Center (785-532-5352 / lgbt@ksu.edu)
Spring 2021 Meeting Schedule:
Monday, Feb. 15th @ 5:30pm-6:30pm
Book Club - "A Field Guide to Climate Anxiety"
Sign-in to this meeting to discuss a portion of A Field Guide to Climate Anxiety
(chapter TBD). You won't need to have read the book to come and discuss – the topic will be fairly universal. If you want to get the book, free copies are available for you to read! Both the Hale and Manhattan libraries (on the second floors) have copies available for you to check out, and if you'd rather not handle a book that someone else handled, we can purchase an electronic copy for you (email lakonrad@ksu.edu) for more details!
Tuesday, Mar. 2nd @ 7:00pm-9:00pm
Film Screening - "Fire & Flood"
Sign-in to this meeting to participate in a film screening of Fire and Flood, a movie about queer resilience in the face of climate change. Stick around after the movie for discussion about how we, too, can be more resilient in the face of the challenges to our local community.
Saturday, Mar. 13th, TBD
GSA Collaboration Event - More Information Coming Soon
Monday, Mar. 29th, 5:30pm-6:30pm
Guest Speaker Panel - More Information Coming Soon
Monday, Apr. 12th, 5:30pm-6:30pm
Potential Outdoor Meeting - More Information Coming Soon
Monday, Apr. 26th, 5:30pm-6:30pm
Pre-Finals Virtual Hang Out: Final Meeting of the Year