2019 Keynote Speaker

John Branstad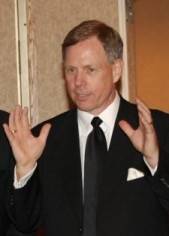 Keynote
ELEPHANTS, FLEAS, FROGS AND ME
Linking attitudes and habits to how we think, how we behave and how we Lead
Leadership in today's complex and global arena is challenging and the rules are changing. We can be assured of several things: The challenges facing us today will become even more intense; the speed with which change is occurring will increase and the competition will intensify. This presentation will address how attitudes and goal achievement impact the balance between one's professional and personal life.
Breakout Session
BE YOUR OWN CEO
The first step to great leadership at home or at work: Create a compelling vision
The very essence of that leadership is that you and your organization have a compelling vision. It's got to be a vision articulated clearly and forcefully on every occasion. You can't blow an uncertain trumpet. This breakout session will provide you with techniques to create a compelling vision for your organization.
John Branstad, a Chartered Leadership Fellow, is an accomplished public speaker, facilitator and leadership coach. After 30 plus years of quality performance, sales and sales leadership in the financial services industry, John now focuses on our most valuable resource, PEOPLE. John's leadership development company, Leadership By Design was established in 2007 and links individual performance to organizational success. To accomplish this, John helps people expand and develop the skills and attitudes needed to achieve a higher degree of success, both personally and professionally.
Financial Advisor
Million Dollar Round Table Qualifier
Field Training Specialist
Advanced Marketing Specialist
Recruiting Director
District Manager/Assistant General Agent
Agency Manager
AMTC, LUTC & Kaplan Instructor
Published in GAMA International Journal
LAMP Presenter
Leadership Development Consultant & Executive Coach
Career Coaching Consultant
Financial Industry, Church & School Board Leader
Community and Church Leader
Chartered Leadership Fellow
Chartered Financial Consultant
Chartered Life Underwriter
Fraternal Insurance Counselor
"Real Nice Guy"