This program is for students who are interested in understanding food security systems and challenging the way we think about food insecurity, community need and how we provide food.
This program is open to all Kansas State University students - undergraduate and graduate - in all areas of study.
Mission
Empowering scholars by fostering curiosity and community to make progress toward a food secure world.
About
The Food Security Scholars (FSS) is a collaborative leadership development program for K-State students who are passionate about addressing food insecurity and the poverty cycle. Housed in the Staley School of Leadership Studies, FSS is a two-phase program where a cohort of scholars undergo a variety of experiences in food security.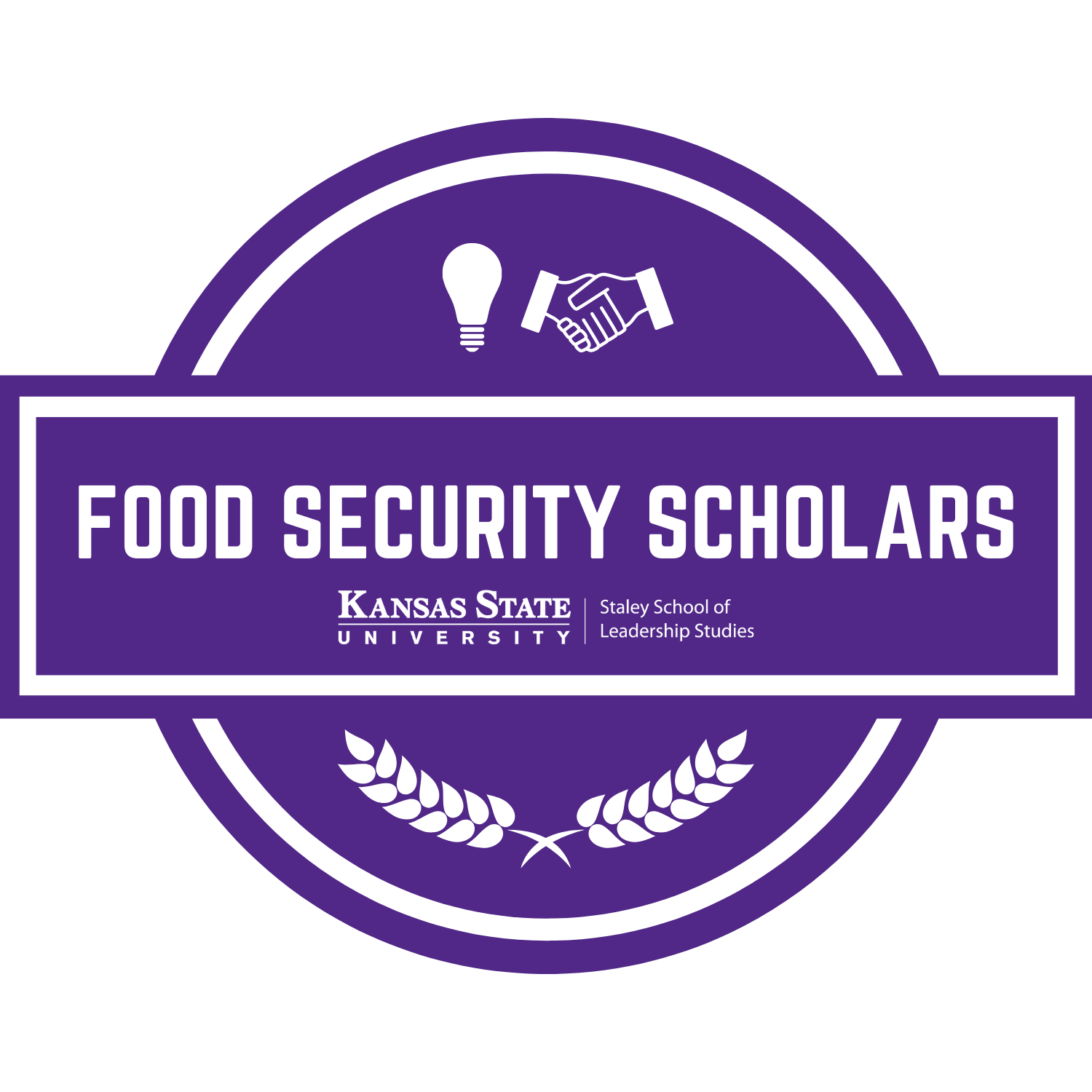 Phase I includes guided learning, community groups, and roundtable discussion with the goal of increasing awareness of food insecurity. Phase II is focused on experiential learning through tours and volunteer activities.
In Phase I, scholars will:
engage in an eight week program from September to December

assemble for 90 minute periods once per week for cohort activities

are connected to peers who lead community group reflections outside of program coursework

interact with the Board of Stakeholders made up of local leaders in food security, research, and volunteerism through roundtable discussions, forums, and volunteer opportunities
In Phase II, scholars will:

meet every other week throughout the semester to reflect on experiences with their cohort

engage in hands-on learning such as volunteering, service learning, and witnessing food insecure communities

connect with professionals in the food security realm in private, public, and nonprofit sectors including recent K-State Alumni

invest in food security efforts through research, volunteerism, and leadership
After Phase II, scholars may:

lead FSS as a member of the Student Advisory Leadership Team (SALT).

apply for undergraduate research experiences

connect with Board of Stakeholders for opportunities in food security experiences

utilize skills and network gained from FSS to pursue personal projects
Apply Today
https://forms.gle/BtQjKkttuEcvdBX86
Y
purple
medium-basic
Apply Today
Qualifications and Selections
Candidates must have two semesters of college remaining and be in good standing with Kansas State University.

No other GPA, age, grade, major or graduate/undergraduate requirements exist.

Selection process includes application and interview round.




Candidates who move to the interview round will participate in two-on-ones, walk and talks and group discussions Sept. 19, 2021.
Questions
Email foodsecurityscholars@ksu.edu.
Follow @fss_ksu on Instagram for updates.