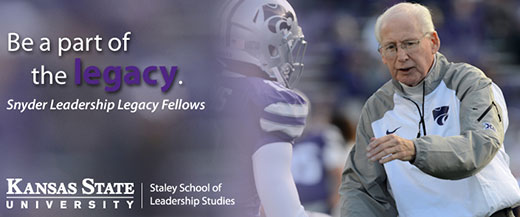 Snyder Leadership Legacy Fellows
The Mary Lynn and Warren Staley School of Leadership Studies, in partnership with K-State Athletics, is excited to offer a leadership development program that honors Coach Bill Snyder's work in developing a family of leaders: the Snyder Leadership Legacy Fellows.
The Snyder Leadership Legacy Fellows program will:
Provide a leadership development opportunity rooted in Coach Snyder's 16 Goals for Success, to top students of Kansas State University.
Provide an opportunity to engage in a leadership dialogue with Coach Snyder.
Purposefully connect students to community and business leaders, successful athletes and scholars along with peers who all share an interest in exercising leadership in their lives.
Provide tools and resources that will aid students in working toward a common goal, with others, as a team, in a competitive environment.
Raise the visibility, importance, and expectations of leadership in action, during and after a student's formal education.
Elevate students' passion for service, encouraging and connecting them with resources capable of transforming visions into actions that make a difference in the world in which they live.
Coach Snyder is a developer of leaders, whose legacy continues to have a tremendous impact far beyond the game of football. The Staley School of Leadership Studies and K-State Athletics honor Coach Snyder's leadership legacy in a manner that, like his understanding of leadership, serves individuals and communities broadly. The Staley School will continue Coach Snyder's efforts by extending to new audiences the opportunity for personal and professional leadership development that he has so generously provided to those with whom he works and lives. The Snyder Fellows and this program will continue Coach Snyder's work in leadership development for future generations.
Learn more about participating in the program or supporting the legacy.
Keep up with the Snyder Leadership Legacy Fellows on Facebook and Twitter.

2018-2019 Snyder Fellows have been announced!
Click HERE to read the full announcement.
Leadership Lessons from Bill Snyder book
We are excited to announce that Dr. Robert Shoop and Dr. Susan Scott's book, Leadership Lessons from Bill Snyder, was updated in 2015 and is available locally! Currently, the book is available at Claflin Books and Copies. Please email Marcia Hornung, hornung@ksu.edu with any questions related to the book.