Impact
Thanks to our wonderful partnerships both within and out of the Manhattan community, HandsOn Kansas State is able to deeply impact service in the area, and, in turn, be deeply impacted by the service performed. For example, the Staley School of Leadership Studies' community service program activities have impacted over 20 social issues in the greater Manhattan community. Here is a quick summary of our 2012-2013 school year:
• Mobilized 1,365 volunteers that contributed 4,256 hours
• Engaged 737 new volunteers
• 1,463 volunteers referred
• 699 volunteers attended 1-4 volunteer opportunities
• 709 volunteers retained up to a year
• 937 volunteer opportunities offered
• Managed 32 service projects
• Recruited and trained 35 new volunteer leaders who contributed 534 service hours
• 421 hours of volunteer leader training with 105 Volunteer Leaders
• Collaborated with 58 community organizations
• Impacted areas in Elderly/Disabled Seniors, Community/Neighborhood Relations, Youth/School Improvements, Environment, Economic and Disaster Preparation and Services
Celebrating Outstanding Community Servant, Officer
Randy

Myles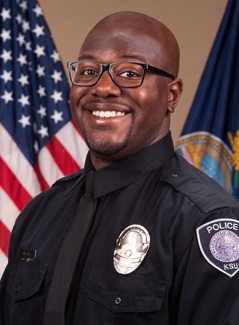 Officer Randy Myles of the K-State Police Department has been on the force here at K-State since July of 2015. Officer Myles is an outstanding community servant in his role as a police officer, and he has gone above and beyond that calling as a partner and volunteer with the Staley School and HandsOn K-State.
Officer Myles has generously donated his time and talents to the Civic Leadership Institute with the Mandela Washington Fellows Program as a presenter and to the Mobile Food Distributions as a volunteer. His service is greatly appreciated; Officer Myles always brings a big smile and a pair of willing hands. Public servants like Officer Myles make K-State and Manhattan a better place to live! Thank you, Officer Myles!
Annually Recognizing Outstanding Students and Community Partners
Every spring, HandsOn Kansas State partners with Community First National Bank to take nominations and select four outstanding individuals and groups in the Manhattan community who are devoted to service. The categories of recognition are Outstanding Student Volunteer, Outstanding Student Group, Outstanding Youth Volunteer, and Outstanding Community Group. The recipients give their time and talents to address critical needs in Manhattan and are deserving of recognition for their leadership. Celebrating People in Action awards are presented each spring at Celebrating Service and Leadership, hosted by the Staley School of Leadership Studies. As part of their award, each recipient receives a $250 check to donate to a nonprofit organization of their choice. Read more about the awards and recipients here.