Impact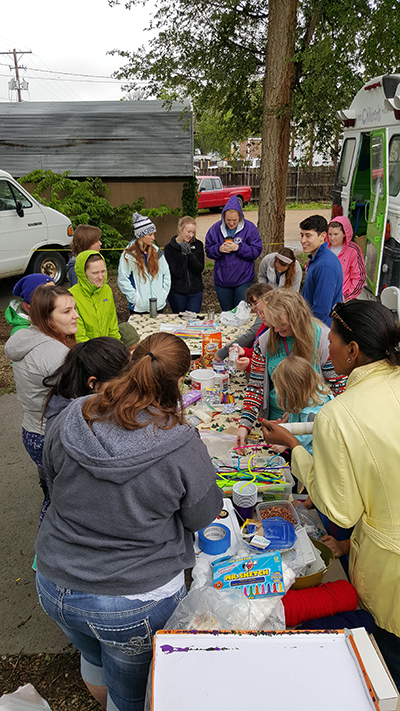 Focusing on Education and Community Service
Academic Mentoring believes there are many strategies to help young people achieve academic and personal success. This includes providing caring adults as role models and connecting meaningful community service experiences with academic learning to make a difference by helping others
In 2015-16
Academic Mentoring served a total of 14 schools and community-based service sites.
Mentor retention rate of 83%
Mentors contributed 26,240 hours assisting over 1,500 youth during the 2015-16 academic year.
Mentor Impact Statements
"The Academic Mentoring students and staff were AMAZING, everyone, first of all, was prepared, secondly on time, thirdly friendly, and fourthly you didn't let the rain stop your activities. Your group was very flexible and had to be due to the rain that day, no one panic, you just moved things smoothly inside the museum and the kids followed! All the kids gravitated to your section of the yard/building and created numerous crafts. When the festival was over at 3:00 pm, I really appreciated that your Academic Mentoring staff and students helped to clean up and place items where they need to be placed. This was our second year of the Storytelling Festival and I hope your group will return again next year to help us do even a better festival rain or shine!" – Richard Pitts, coordinator of The Wonder Workshop Children's Museum
"I have enjoyed being an Academic Mentor, it may not have been my favorite part of the day but seeing that I was able to make a difference in the lives of the children I worked with always made it worth it. I hope we have more mentors to help out the Manhattan area community. The teachers greatly appreciate our work and so do the children. HandsOn K-State is such a great program and hope I can continue to be a part of that community and help out in any way I can. The service projects always brought me joy because I got to see some of my mentees relax and have fun. I wish the best for all the mentors and for the program to grow." – Ann Hoang, previous Academic Mentor
Global Youth Service Day
Established in 1988, Global Youth Service Day (GYSD) celebrates and mobilizes the millions of young people who improve their communities through service. GYSD is the largest service event in the world and the only one dedicated to the contributions that children and youth make 365 days of the year.
GYSD is celebrated each year in more than 135 countries, with young people working together–and with schools, youth organizations, nonprofits, community and faith-based organizations, national service programs, government agencies, and adult mentors– to address the world's most critical issues and change their communities. (taken from http://ysa.org/act/programs/gysd/about/)
In April 2016, Academic Mentoring collaborated with Wonder Workshop Children's Museum coordinator Richard Pitts and his organization to present the 2nd Annual Storytelling Festival: an event emphasizing the importance of sharing stories and promoting literacy in the Manhattan community. Academic Mentoring arranged crafting stations centered around books that encouraged creativity to recycle and reuse materials, and mentors volunteered their time to assist participants with these crafts.