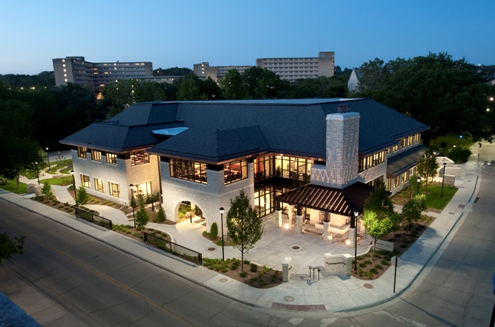 Our Building
The Leadership Studies Building opened in January 2010, and soon after became the first LEED certified building on K-State's campus. The primary purpose of the Leadership Studies Building is to serve as a classroom and educational facility, although it is also a great space to host events, meetings and more.
Request Space
The Leadership Studies Building is home to seminar and mid-sized classrooms, conference rooms, and a large lecture hall. These areas are available to reserve for classes, meetings, conferences, and events.* Catering is easy with Radina's Coffeehouse and Roastery located on the main floor of the building.
*Due to COVID-19 room capacities and health and safety policies, the building and rooms will not be available for reservations during fall 2020.
Sustainability
Since its earliest stages, the Leadership Studies Building was planned, designed, and built to reduce its impact on the environment. It was submitted to the U.S. Green Building Council at the "Gold" certification level in April 2010, making it the first LEED certified building on campus.
Artwork
The collection of artwork in the Leadership Studies Building is meant to be invigorating and inspiring, and showcase the sophistication of regional artists - especially those from Kansas. The pieces are as diverse as those who created them, and there is sure to be something to appeal to everyone's unique taste.